Loopt knows where you are - and tells everyone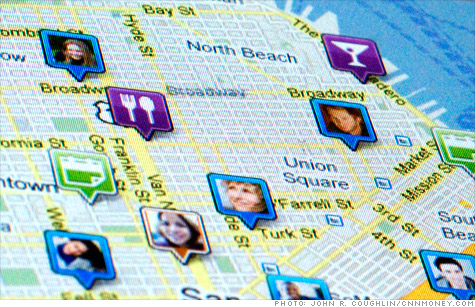 NEW YORK (CNNMoney.com) -- The stakes just got raised in the fight to dominate the hottest corner of the mobile apps market.
Last week's iPhone update added a key piece of missing functionality to the wildly popular smart phone: It can now run third-party applications as a background process. That multitasking ability opens up a world of options for app developers in the burgeoning field of location-based social networking.
Loopt, a geotagging app with 3 million users, raced out a new version that allows users to update their locations automatically as they move around. It's a change from rivals like Foursquare and Gowalla, which require users to manually check-in as they visit places.
"This is absolutely the future of mobile," says Sam Altman, chief executive of Mountain View, Calif.-based Loopt. "Location is the sole difference between mobile and traditional Web. So of course these types of location-based apps are growing like crazy."
Loopt 3.0 uses the new iPhone's iOS 4 to let its users continuously share their locations with specific friends for up to eight hours, with no further action on their part. If a Loopt friend is nearby, a notification pops up. Friends appear on a Loopt map, which updates in real-time.
Manual check-ins are still available for sharing with a larger group of friends.
"This is a huge deal for us, because this is what we imagined when Loopt launched in 2008," Altman says. "Background-updating is absolutely the future. Everyone else we talk to in the location space is moving toward it."
Privacy? Who cares?
The "location space" is a booming field, thanks to Gen Y-ers who have grown up in the Internet age and have no objection to broadcasting personal information that would make their parents shudder -- for example, their exact location at any given moment.
The number of location-based services on smart phones is expected to rise to 81 million installations in 2010, a tenfold increase from just 8 million in 2009, according to a report released this week from iSuppli Corp. By 2014, the firm expects usage will soar to 297 million.
A number of companies are fighting to capture those users: In addition to Foursquare and Gowalla, there's BrightKite, Whrrl, Buzzd, and scores more. Altman says Loopt tracks about 100 companies "that are doing something interesting in the location space."
Noah Elkin, mobile analyst at eMarketer, says there's likely room for only two or three sizable location apps -- and contenders will need the amp up the creativity if they want to rise to the top.
"Loopt is one of the older apps, but it hasn't been in the news all that much," Elkin says. "Foursquare has added content partners, while Gowalla has ad partners. That sense of being different is the key to galvanizing the space."
Facebook has also made noises about adding location services, Elkin noted. With more than 400 million users, Facebook would be the "instant heavyweight" in the space and could knock out a lot of the players. Twitter also threw its hat in the ring, releasing "Twitter Places" this month to tag tweets to locations.
Altman is more optimistic. He thinks about five companies will become big names in the field within a few years.
That's a number echoed by Bryan Trussel, chief executive of the app maker Glympse.
A former Microsoft exec, Trussel co-founded Glympse in 2008. The app pioneered the idea of "temporary" location sharing. It doesn't require an account; rather, users can e-mail a link that shows their trackable, real-time location on a map for short periods of time. For example, users can send a Glympse to clients if they're running late to a meeting.
"When we started up, people says I was crazy to quit Microsoft," Trussel says. "One very accomplished venture capitalist says he couldn't see location sharing taking off. But now there's an absolute perfect storm: the technology, business models, trends are all pointed at location."
The GPS problem
There's one big roadblock to automatic location syncing: The GPS in a smart phone can't rival the precision we've come to expect from car units and other standalone devices. For example, a city street could have several storefronts within a few feet -- and a phone's GPS isn't accurate enough to determine the user's exact location.
Loopt's Altman admits that's why his app's background mode shows only street location -- for example, 58th St. at 8th Ave. -- rather than the exact venues shown with manual check-ins.
"The GPS inaccuracy is a big problem," says Trussel of Glympse. "At this point, the technology would make it almost impossible to check into exact locations automatically."
Developers are eying a few workarounds. For instance, venues that want to enable auto-check-ins could install RFID chips. Or check-ins may be a passing craze, one that will fade in importance.
"But either way, location will be an integral part of mobile," Trussel says. "A few years from now we'll forget very quickly that there was a time when location wasn't at the forefront."
Elkin of eMarketer says the lines between mobile and social are blurring fast.
"The idea of mobile and social becoming one is a big issue for the industry," Elkin says. "We find ourselves with less and less division between the two -- and eventually that line may cease to exist."