The boom and gloom Louisiana economy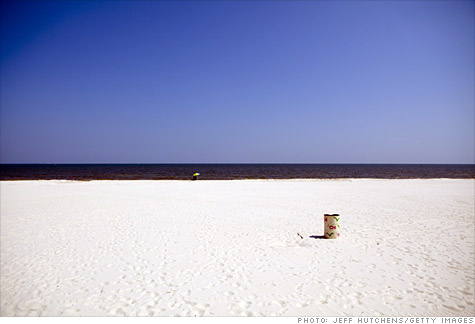 FORTUNE -- The closer you get to the sea in Louisiana, the angrier the rhetoric on the homemade signs posted by the side of the road. From, "BP, your mother nature said to clean your room," to, "Cannot fish or swim, how the hell are we supposed to feed our kids now?"
Two months after the explosion aboard the Deepwater Horizon -- on day 63, to be exact -- we drove down from New Orleans to Grand Isle, Louisiana, which the media has cast as Ground Zero of the oil-spill crisis. It was a two-hour trip, through Golden Meadow and Port Fourchon, the last part on a bermed two-lane through marsh and swamp, to where the land finally gives way, regretfully, to the open waters of the Gulf. We went to see the beaches and to assess the damage, both environmental and economic.
On this day, however, and also the following morning, the beaches looked clean. You wouldn't know what had happened, were it not for the bright-orange, triple-tiered, liquid-filled containment tubes, laid out mile after mile along the tide line; and the scary crew of black-helmeted security guards in dune buggies, zooming up and down the beach, waving trespassers away from the water, and taking names.
But don't be fooled, the locals told us. What's clean today could easily be foul tomorrow. The pipe is still gushing, and the oil is still out there. It's all about the tides. Someday -- maybe tomorrow, maybe next week -- the oil will be back.
Meanwhile, oddly, there's something of a mini-boom happening in southeast Louisiana. Cleanup money is pouring into the region. Businesses -- some of them, anyway -- are thriving. People are working -- some are even finding relief from the pain of the national recession. But like the oil swirling in the currents just offshore, harder times are lurking on the economic horizon. There's an ugly feeling of foreboding. No one expects this boom to last.
Take Laborde Marine, a $25 million offshore service company with operations headquarters in Morgan City. So far it's making money on the spill. "We had really gone backwards the last two years," says Peter Laborde, whose father, John, founded the company in 1995.
On the day the Deepwater Horizon exploded, thanks to the recession's lasting impact on drilling, six of the company's 13 deepwater vessels were idle. Today every boat in its fleet is running flat-out. "We have three large 280-foot PSVs-platform supply vessels," says Laborde, citing one example, "and two of those are working with the Deepwater relief wells."
Dependent on oil, now and in the future
What concerns Laborde is what might happen three or four months from now, after the leaking well is plugged. He's relieved that a federal judge put a temporary halt to President Obama's moratorium on deepwater drilling but knows that might change. "In my world, I view it as more confused now than before," he says. "Everybody's in kind of a limbo."
The longer the rigs are idle, Laborde says, the greater the likelihood they'll be redeployed outside the Gulf, across the ocean. And if the big rigs go, it could be years before they return. Laborde also worries about stricter regulations to come once drilling resumes. Tougher rules will mean higher costs, he says: "It may knock the independents out of the market."
Over in Venice, 40 miles by boat from Grand Isle but 175 miles by car, entrepreneur Rene Cross is also seeing some small benefits from the spill. For the moment, he says, every room at his 64-room Cypress Cove Lodge is filled with clean-up workers, and enough of them are eating at his restaurant, Harbor Seafood & Oyster Bar, to keep him in business. "But when the oil workers leave," Cross wonders, "who is going to fill my hotel?"
Cross also owns a marina in Venice, favored by sport fishermen. He took a huge hit five years ago from Katrina. He was just beginning to recover when the spill happened. It could not have come at a worse time. "We make it between May and October," Cross says, "If we don't make it between May and October, we don't make it." With much of the Gulf currently off-limits to commercial as well as recreational fishing, Cross might not make it this year. His 297-boat Cypress Cove Marina, usually full in season, is currently 85% vacant.
But like many people here, Cross isn't anti-oil -- he's anti-moratorium. Despite the spill, Cross still believes offshore drilling is good for his fishing business. The rigs are essentially "man-made reefs," he says. They attract fish.
What's more, he owns a construction company that does a lot of business with drilling companies in the marshes. He just wants BP (BP) to pay for its recklessness and make him whole. ("Bottom line, I'm in the construction business. If I fuck up, I pay for it.") Cross met recently with a BP rep and asked for six months of projected lost revenues from BP's $20 billion recovery fund. No word yet on how much he'll get.
Finding income from new opportunities
Back in Grand Isle, 67-year-old Walter Maples, whose family has owned the Sureway Supermarket since 1976, concedes that customer traffic is up since the spill, thanks to the influx of 2,500 temporary clean-up workers. But his profits are way down. "This is crapola for business here," grumbles Maples, pointing at a man darting from the store with one small bag of groceries. "A carton of cigarettes and six-pack of beer. Instead of a supermarket, we're a super drive-thru, without a gas pump."
Sureway always relied on sales to workers in the offshore oil business. The supermarket's website even features color photographs of supply ships and drilling rigs. But Maples also misses the tourists and recreational fishermen, who normally would load up on groceries, swimsuits and boogie boards, and this summer are nowhere to be seen. Says Maples, gazing unhappily at the empty carts stacked just inside his doors: "I want the buggy-filling business." Instead, he gets guest workers who chow down in the mess hall at BP's giant cleanup compound outside a marina down the road. Most send their paychecks back home. Maples says he's doing as much as $150,000 worth of money orders and Western Union transfers in a single week.
At the compound we meet Joanna. (She wouldn't tell us her last name; her co-workers call her Firecracker.) Normally she's a waitress at Baby Dolls in Golden Meadow, not far from Cut Off, Louisiana, where she was born. But business lately has been awfully slow, she says. Which is why she's up at dawn this morning, decked out in blue jeans, rubber boots, wraparound sunglasses and her trademark purple bandana with pink flowers, getting ready to embark on a skimming mission in the barrier islands. She makes $12 an hour plus meals ("jailhouse chow," she calls it), and she's hoping this new gig lasts.
So is Paul Ironmonger, 63, a Louisiana businessman who owns two billiards-table stores, in Baton Rouge and Mandeville. With his own sales flat-lining ("Business sucks; nobody wants to buy billiard tables in this economy"), he's turned over his stores to family and friends and taken a day-rate job with The Response Group, a BP contractor, manning an office at the cleanup staging area. Ironmonger's been there nearly a month, living in BP-funded accommodations, eating BP food, and working the graveyard shift. The spill, he concludes, is not all bad. "It's putting a lot of people to work," says Ironmonger.
At least on Day 63.
--Research assistance: Doris Burke