Amazon snaps up deal-a-day site Woot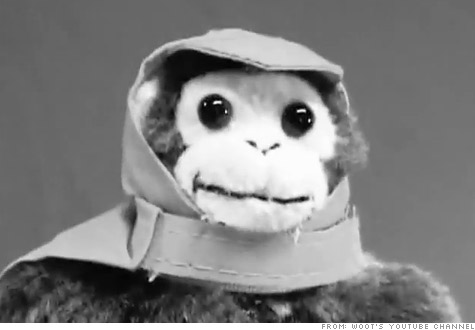 NEW YORK (CNNMoney.com) -- E-commerce behemoth Amazon is snapping up shopping site Woot, a cult favorite of gadget geeks.
Dallas-based Woot announced the deal on its company blog Wednesday in typically irreverent style, with a self-deprecating letter from chief executive Matt Rutledge and a video of a dancing and rapping plush monkey.
"We used to be a little fly-by-night, but son, starting today, we're a big-time site!" the simian mascot raps. The monkey did not disclose the deal's financial terms.
Woot was a pioneer in the "social shopping" space now populated by Groupon, Gilt Groupe, LivingSocial and other startups. Launched in 2004, the site initially featured just one consumer electronics product each day, offered at a steep discount and available in limited quantities. The site's featured deal on Wednesday was an iPod Nano for $99.99, or about $50 off what customers would pay in Apple stores. The same device was priced at $122.54 on Amazon's site.
The daily deal format proved so popular that Woot launched offshoot sites focused on wine, toys and t-shirts.
Seattle-based Amazon (AMZN, Fortune 500) said it expects the acquisition to close in the third quarter, after which Woot will continue to be managed independently from its current Texas headquarters.
"Amazon clearly knows what they're doing in a lot of areas, so we're geeked about the opportunities to tap into that knowledge and those resources, especially on the technology side," Rutledge said in his letter to employees. "This is about making the Woot brand, culture, and business even stronger than it is today, and we expect that any changes will be for the better or we wouldn't bother with this endless paperwork."