Delta-Northwest merger: One-way ticket to new unions?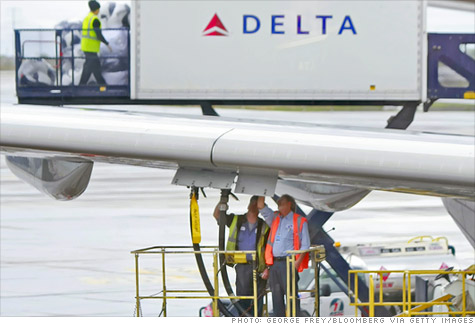 FORTUNE -- Since 1926 the Railway Labor Act has allowed airline and railroad employees to vote on whether to unionize. But for years there was a quirky detail that worked in management's favor: All abstentions were counted as "no" votes. That changed last fall, when the National Mediation Board, with two new members appointed by President Obama, proposed changing the rules to count only votes that were cast -- and make no assumptions about abstentions.
After a relatively rapid court skirmish, last Friday, Judge Paul Friedman upheld the rule change against the wishes of the Air Transportation Association, an industry advocate. That means that starting today, union leaders can target firms with the greatest number of non-unionized workers, and they have already filed this morning for a vote at the most obvious target: Delta Air Lines (DAL, Fortune 500).
That's because at most major airlines, like American (AMR, Fortune 500), United (UAUA, Fortune 500), and U.S. Airways (LCC, Fortune 500), the rule change doesn't have much effect: The majority of their employees are already unionized. But for Delta, newly merged with Northwest, only about 40% of the combined employee population is unionized.
Unlike its competitors, Delta employees have declined to join labor unions in the past, priding themselves on having great relationships with the company and enjoying the freedom to negotiate contracts with managers one on one. However, in light of the company's 2007 bankruptcy, resulting wage and benefit cuts could lead non-unionized employees to change tactics and organize in the hopes of returning to pre-bankruptcy compensation levels.
The company, based in Atlanta, has made an effort to maintain its genteel culture (it once billed itself as the "Airline of the South") and avoid bringing in organized labor, save for its pilots, which are already unionized. (Mechanics from Northwest were unionized until recently, but Delta's mechanics are not.) Their contracts aren't up for renegotiation until 2012.
With greater unionization, one operational change that will affect passengers is the management of unionized workers at airports, and the ability of managers to wear several hats at the same time. For instance, under the current rules, when lines at the ticket counter get unwieldy, managers can step in and help the ticket agents assist passengers. But should those ticket agents vote to unionize, managers won't be able to help, since that could be considered to be taking work from a unionized employee, Chris Kelly, a spokesperson for Delta explained to Fortune.
How the change allowed the union vote effort to happen
As reported today, the International Association of Machinists who represent Northwest Airlines employees requested that the National Mediation Board allow them to begin voting proceedings for non-unionized Delta employees. Voting should begin in six to eight weeks and would remain open for several weeks.The Association of Flight Attendants is expected to follow suit. Should the majority of those who fill out a ballot vote to unionize, the unions would begin negotiating contracts on behalf of the entire group.
With the June quarter shaping up to be the first profitable period for the airline industry in several years, union leaders will probably aim to capitalize on the recent success in the form of higher wages and benefits for all airlines. However, the uptick in labor costs shouldn't affect investors' position on Delta.
Stifel Nicolaus analyst Hunter Keay wrote in a recent note to investors that Delta management had already budgeted $100 million to $200 million in pay increases for all non-unionized employees. Keay estimates that even with the rule change, there's only about a 60% chance that non-unionized Delta employees would vote in favor of unions.
While the flight attendants have the greatest chance of voting down the change, they could still be persuaded should the AFA's offers of greater job security and pre-bankruptcy wages prove to be more attractive than their current direct relationships with managers.
Regardless of the outcome, it's unquestionably become easier to unionize under the new rules. Organizers won't have to persuade a majority of employees to vote yes, only a majority of the turnout. And that could change the equation -- and the balance sheet -- for Delta.