Gulf spill hasn't scared off Lloyd's of London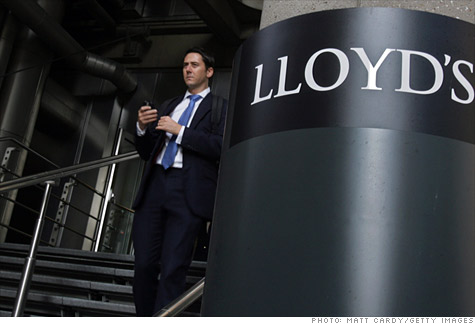 FORTUNE -- From the glamorous to the bizarre to the outright catastrophic, Lloyd's of London has insured against some of the world's most unusual risks: There was the finger that Rolling Stones guitarist Keith Richards injured during a concert tour in the 1990s. Lloyd's once insured actress Bette Davis' waistline against expansion. It also insured Ugly Betty star's America Ferrara's $10 million smile for Aquafresh White Trays.
But Lloyd's latest high-profile risk has little to do with celebrities and everything to do with the worst oil spill in U.S. history. It is one of the biggest insurers of offshore energy contractors along the Gulf of Mexico, including Transocean (RIG)'s Deepwater Horizon rig that exploded while it was under contract for BP (BP).
Lloyd's says claims across all clients in the region could reach up to $600 million. Although this is not exactly chump change, Lloyd's doesn't appear to be sweating the costs too much -- at least for now.
In 2009, the British insurer reported record profits of 3.9 billion British pounds during a year helped by fewer catastrophe-related losses due largely to a benign Atlantic hurricane season. In today's dollars, that's about $5.9 billion.
There is a chance that the Gulf spill could eventually cost Lloyd's more, however. Depending where legal proceedings go, claims could turn out to be much higher than the insurer estimates.
Lloyd's has asked a federal judge to declare that it would not have to cover BP's "excess liability" in cleanup and other costs as Transocean's insurer. In a suit filed in May in Houston, Lloyd's argued that Transocean's contract limits insurance protection to pollution "originating above the surface of the land or water." Lloyd's has argued that because the spill is "below the surface and from BP's well, those liabilities are not within the scope of the additional insured protection."
BP itself is not insured by Lloyd's or any other carrier -- its Gulf operations are self-insured.
Higher rates ahead
However much the oil spill ends up costing Lloyd's, its chief executive officer Richard Ward tells Fortune the disaster is bound to vastly change the way insurers determine risks in the Gulf. To recover spill-related claims, Lloyd's predicts that insurance rates could increase by 50%.
"I would argue that the price of these risks are not at an appropriate level," Ward says. "We will see insurance rates go up."
Ward's remarks come at a time when rates have generally fallen. With the global recession, there was less demand for oil and gas. Combined with a lesser than active hurricane season that sheltered insurers from large claims, rates had fallen by 10% to 30% before the explosion in April.
The Gulf Coast spill will surely halt the downward trend. If anything, it confirms what some observers had always believed about deepwater offshore drilling: The risks are far more dangerous and far more costly than the models had predicted.
"The market has changed and definitely it has gotten a little bit tougher for deepwater risks," says Bertil Olsson, U.S. energy practice leader for Marsh, a New York-based insurance broker and risk adviser.
But it doesn't look like the higher rates will hurt Lloyd's profits. It is a specialty insurer -- among the big and few along the Gulf Coast. And as with the insurance industry in general, whatever losses it endures through payout in claims will be accompanied by rate increases to make up for those losses.
Lloyd's was founded more than 300 years ago. It's not exactly a company in the traditional sense and avoids being called one. Lloyd's is an insurance and reinsurance exchange where multiple financial backers, underwriters, corporations, and other parties come together to pool and spread risks.
Although the energy market made up 6% of Lloyd's business last year, its syndicates write a range of policies covering property, motor, marine, aviation and other risks.
Lloyd's says the Gulf spill has not discouraged it from insuring the energy market in the Gulf Coast.
"As long as there are deepwater facilities, they will need insurance and we will continue to provide it if it's good business for us," a spokeswoman wrote in an e-mail.
Correction: An earlier version of this story incorrectly stated that Lloyd's 2009 profits were 3.9 billion euros, or $4.9 billion. They were 3.9 billion pounds, or $5.9 billion.