Too much confusion for investors
NEW YORK (CNNMoney.com) -- The thermometer is set to hit the triple digits for much of the East Coast this week. Will the S&P 500 do the same?

The S&P has not closed below 1,000 since September of last year, but got close last Friday, hitting 1,022 after losing 5% for the week.
Stocks did enjoy a nice bounce Tuesday morning, but the S&P 500 pulled back in the afternoon and was barely holding onto gains in late trading.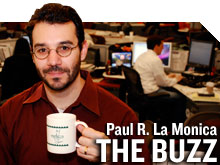 So a move under 1,000 can't be ruled out, and it's a level that Wall Street will be eyeing closely.
"The S&P 500 under 1,000 would be a psychological level that would reinforce the lack of investor confidence," said John Kolovos, co-head of technical research with Concept Capital in New York. Kolovos thinks the S&P 500 might fall as low as 950 before the end of the summer.
There are many reasons that investors are still nervous. The disappointing jobs numbers for June show that the economic recovery in the United States is still shaky. Fears about Europe persist.
And next week, many big companies will begin to report their second quarter results -- plus their guidance for the remainder of the year.
Kolovos said that the upcoming deluge of earnings reports is likely to lead to some big daily moves in the market. Moves could be both positive and negative, he said, but he still thinks the general trend is down.
"The longer-term outlook is not hot, but there may be moderation in the decline. The market will still be volatile, but it won't be a straight line down," he said.
Michael Purves, head of derivatives research at BGC Partners in New York, also said that stocks will remain volatile. He recently increased the upper end of his near-term target for the VIX (VIX), Wall Street's so-called "fear gauge", to 40. The VIX is currently around 28. Increases in the VIX often accompany big market sell-offs.
But Purves agreed that stocks may not plunge. Instead, he thinks the rest of the year will be choppy, mainly because investors are still trying to figure out just where the economy is heading.
"Investors are in an unusual economic environment that they are not used to analyzing. This doesn't mean that stocks are going to crash. But confusion is elevated," he said.
"People are trying to make sense of things. There are a lot of reasons not to be bullish, but there are a lot of reasons not to be short the market either," he added.
Still, some think that the worst of the summer swoon may be over. After all, stocks didn't fall that sharply on Friday despite the news of weak job growth.
Bill Stone, chief investment strategist with PNC Asset Management Group in Philadelphia, said this may be a sign that investors have finally adjusted their economic and earnings expectations.
And they may even be too pessimistic.
If that's the case, stocks may actually enjoy a rally that will last longer than Tuesday. Stone thinks some investors may now be pricing in a double-dip recession. So merely a slowdown in growth -- but still a recovery -- would actually be an improvement over the worst-case scenarios.
"Stocks seem to be very oversold and there are more bears than bulls. So the market may be due for a bounce," Stone said.
Kate Warne, investment strategist with Edward Jones in St. Louis, also thinks that investors went overboard in assuming the worst about the economy. She said that now's a good time to take advantage of the sell-off and buy quality, dividend-paying companies with strong balance sheets such as Vodafone (VOD), Procter & Gamble (PG, Fortune 500), 3M (MMM, Fortune 500), Microsoft (MSFT, Fortune 500), Novartis (NVS) and Chevron (CVX, Fortune 500).
But she agreed with Purves that the biggest problem for investors is that it's hard to figure out just what shape the economy is really in. For that reason, she expects the debate between the bulls and bears to last all summer long.
"I would hope people are getting used to the notion of a slow, grinding recovery but we'll probably continue to hear concerns about a double dip," she said. "This isn't a recession but it isn't fast growth either. How many different ways can you say modest and subdued?"
- The opinions expressed in this commentary are solely those of Paul R. La Monica. Other than Time Warner, the parent of CNNMoney.com, La Monica does not own positions in any individual stocks.