A Detroit billionaire's chokehold on the Canadian border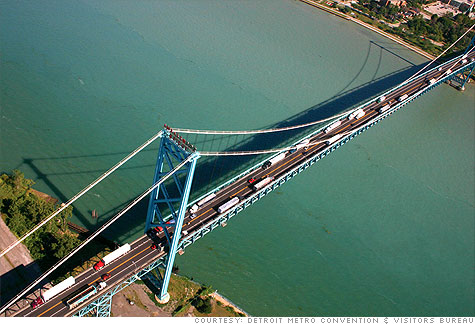 DETROIT (CNNMoney.com) -- Spanning a river stretch just over a mile long between Detroit and Windsor, Ontario, the Ambassador Bridge is the busiest commercial border crossing in North America. It's also falling apart.
Eighty-one years old and increasingly dilapidated, the bridge can't keep up with the demands nine million vehicle crossings a year place on it. City planners on both sides of the border have long wanted an upgrade, and two months ago, Canada made a startling offer: It will loan Michigan $550 million to fund construction of a second bridge two miles downriver.
That proposal kicked off a firestorm that's still sparking daily flare-ups.
The major hurdle is that the Ambassador Bridge isn't controlled by any municipal agency. It's privately owned by 83-year-old billionaire Manuel (Matty) Moroun, who bought the bridge 30 years ago and has enjoyed a near monopoly ever since over the lucrative international trade route. It's a position he'd like to keep.
Moroun has instead proposed personally spending $400 million to $500 million to build a new bridge with six lanes of traffic (an upgrade from the current four), adjacent to the existing bridge. It would be used in lieu of the Ambassador, which would only run as a back-up when needed.
But Maroun's plan doesn't provide a bridge in a separate location. That's a security risk if something goes wrong, and a disaster if the nearby roads need to close, says Bill Shreck, a spokesman for the Michigan Department of Transportation (MDOT).
"Virtually every business that ships over the border in the area has been asking for more capacity and more choices at the border crossing," Shreck says. With $1 billion a day in goods crossing the border, it's a serious time and money drain when traffic clogs up. Automakers, who rely on the bridge for parts deliveries, are particularly vulnerable.
The plan Canada would like to finance, the Detroit River International Crossing, has some high-powered backers, including Michigan Governor Jennifer Granholm, Detroit Mayor Dave Bing and the domestic auto companies. Chrysler Group CEO Sergio Marchionne says the DRIC would add necessary capacity and ensure "unimpeded access from Ontario's highway to Michigan's interstates."
Michigan's state House of Representatives recently approved legislation allowing MDOT to enter into public/private partnerships, clearing the way for the DRIC's creation. "This is an essential part of rebooting our economy," says state representative Lee Gonzales, one of the plan's key sponsors.
But who will end up paying for it? That's the big sticking point.
The DRIC would be jointly owned by the state of Michigan and the Province of Ontario, Canada. MDOT estimates the project's total cost at around $2.6 billion, some of which will come from federal funds. Canada's proposed multi-million-dollar loan, which is enough to get the project started, would be repaid over time through toll revenues.
But Moroun thinks taxpayers will get stuck with the brunt of the bill. He believes bridge traffic will increase too slowly over the next 10 years to generate enough revenue to pay back the loan, says Moroun's son Matt, who helps run the family business.
In addition to the bridge, which generates an estimated $60 million a year in toll revenue, the Moroun empire includes several trucking businesses. Their collective heft placed the Moroun clan at #296 on Forbes' latest list of the richest Americans.
"We're doing our best to fight a government takeover of a private business that wants to spend private dollars in Detroit," says Matt Moroun.
He's backed by several influential Republican lawmakers -- and they control Michigan's State Senate, where the bill needed to launch the DRIC sits, stalled.
Critics say they're concerned that a public/private partnership would hand over too much control to MDOT and Canada.
Senate Majority Floor Leader Alan Cropsy says border traffic has been down by 50% over the last decade, making the traffic flow too small to sustain two bridges, much less raise the money to pay back the loan through tolls.
"We have somebody willing to build this at his own cost, with no cost to the taxpayer," says Rep. Dave Agema, who fought the bill's passage in the House. "To me, this is a no-brainer."
On the flip side, many locals counter that trusting Maroun to modernize the U.S./Canada transit link would be the real brainless move. The billionaire isn't a popular figure in the decaying neighborhood that surrounds his Ambassador Bridge. State Representative Rashida Tlaib, whose district includes that area, has thrown her support behind the House version of the DRIC plan, which includes provisions for community investments.
"The neighborhood has reaped no benefits with the bridge company other than trucks in our neighborhood," she says. "It's a historic district with homes being torn down and blighted homes that the company owns. It's an eyesore. We haven't had a good neighbor when it comes to the Ambassador Bridge."
The government of Canada is also pushing for a municipal solution to the bridge problem. With the land acquired, funding in place and key parties on board, the DRIC project is nearly shovel-ready, according to Canadian Minister of Transport John Baird.
"This is the most important public infrastructure project in the country," he says. "It's essential to the economic well being of both countries."