The world's new economic landscape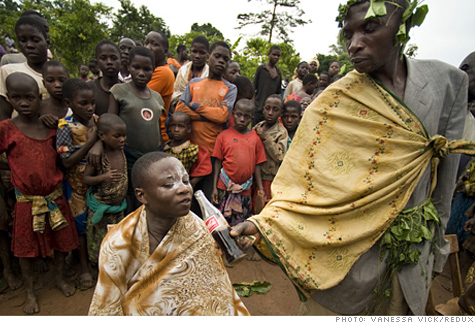 FORTUNE -- On July 1, Nestlé, a company with no experience in retailing and even less in shipbuilding, launched a 90-foot-long barge on an 18-day journey up the Amazon River in Brazil. The barge -- called Nestlé Até Você a Bordo, or Nestlé Takes You Onboard -- is stocked with more than 300 Nestlé brands, including Leche Ideal (enhanced powdered milk), Maggi (soups and seasonings), and, of course, Nescafé (the world's leading instant coffee). Small, low-priced packages of each will be showcased in river ports that are home to 800,000 Brazilians who usually travel by boat, if at all. "We are going to pick up the customer where he is," Ivan Zurita, CEO of Nestlé Brasil, has said.
To get big and stay big in today's global economy, companies need to go the extra mile -- whether by land or by sea. They especially need to do so in emerging markets that are growing faster than those of the U.S., Europe, and Japan. Most companies that made this year's Fortune Global 500, our annual ranking of the world's biggest companies by revenue, sell products or services not just in their home countries but globally.
For consumer products companies like Nestlé (No. 44, and the world's largest food company), crossing borders is tricky. They need to decide when to standardize their offerings and when to customize or localize their wares for what remains a remarkably diverse global marketplace. "Contrary to many predictions, the flattening of the world has not flattened unique cultural and national characteristics, or the idiosyncratic preferences of customers," says Martin Roll, a Singapore brand strategist.
Ideally companies would like to sell the same product everywhere to take advantage of economies of scale. But only a few have. Microsoft (No. 115) has sold 150 million copies of Windows 7 since last fall in more than 100 countries, with only minor tweaks. Code is code. Airplanes also travel well: Nearly 96% of the 157,100 employees at Boeing (No. 91) are based in the U.S., but more than 80% of the company's current order book of commercial airplanes will go to international customers. Ford (No. 23) and Apple (No. 197) design cars and iPhones on global platforms.
But even companies whose brands achieve ubiquity must adapt to emerging markets. Coke is Coke, so Coca-Cola (No. 245) sells it in 206 countries. But to transport the beverage to remote villages in East Africa, Coca-Cola relies on more than 13,000 small-scale distributors, some pushing carts. Coke's African sales topped $550 million last year. In India, Procter & Gamble (No. 66) and Unilever (No. 121) deploy sales forces of women who go door to door, marketing to their friends and neighbors.
Wal-Mart (No. 1), too, is simultaneously growing and downsizing. With $408 billion in sales, Wal-Mart recaptured the top spot on this year's list, displacing Royal Dutch Shell (No. 2) . It did so largely because of growth outside the U.S.: Its international sales topped $100 billion for the first time in 2009, and more than 60% of Wal-Mart's new square footage this year will be built on foreign soil.
Wal-Mart operations in Mexico, the chain's third-biggest market behind the U.S. and Britain, are a good example of local customization. "We've got Supercenters, we've got Sam's Club, and we go all the way down to very small convenience stores, called Bodega Aurrera Express," says Mitch Slape, senior vice president for international business development. Wal-Mart is also expanding its global footprint very deliberately: It's in only 14 countries, after selling operations in South Korea and Germany a few years ago. "You have to think carefully about where to apply people, time, energy, and capital," says Slape. China and Brazil are seen as the company's next growth drivers.
To better understand unfamiliar markets, companies such as General Electric (No. 13) and Nokia (No. 120) have established research and development centers in China and India. The lone Finnish company on our list, Nokia, scored big a few years ago with a phone made for India that came with a built-in flashlight, alarm clock, and radio, all of which come in handy when the electricity goes down, as it often does. When the company learned that poor people often share one phone, it made handsets with multiple address books.
Unexpectedly, some ideas travel from global markets to the U.S. Two years ago Coca-Cola Russia created a version of a traditional Russian beverage known as Kvass, which is usually made out of stale rye bread and yeast. (Pushkin loved it, and some people insist that it's a real thirst kvencher.) Coke's Krushka & Bochka brand, which became a hit, has now found its way into Whole Foods Markets in the New York metropolitan area. The company hopes it will appeal not just to the sizable Russian immigrant population but also to other adventurous drinkers. (Coke, by the way, has more than 500 global brands, including Inca Kola, a lemon-flavored soft drink in Peru; Thumbs Up, India's top-selling cola; and a Chinese juice drink called Qoo.)
Unlike their counterparts in the U.S., Europe, Japan, and Korea, Chinese companies for the most part have not chosen to compete across the global landscape. Maybe that's because they don't have to, at least not yet. China's domestic economy is big enough and growing fast enough that the Chinese were able to place 46 companies on this year's Fortune Global 500, nine more than last year. The U.S. remains the leader, with 139 companies, followed by Japan (71), China, France (39), and Germany (37). India (8), Brazil (7), and Russia (6) lag far behind. They've got plenty of room to grow right at home -- at least for now.