How businesses survive recalls: Insurance.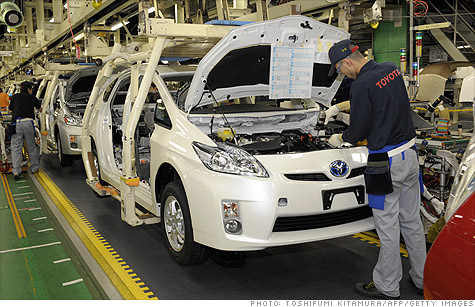 FORTUNE -- When a major company is in the middle of an embarrassing crisis, it can be hard for demoralized staff to keep pushing the company tagline. That's why more and more companies are leaving the messy details of pulling products and defending the company brand to experts who have been there before: crisis public relations firms.
Over the past couple of years, more and more companies have picked up product recall insurance to keep manufacturing mistakes from killing their bottom line. Policies vary depending on the manufacturer, but most generally ease the costs associated with shipping, storing and studying the defunct goods. Recall insurance can also include the cost of an external crisis public relations team that handles interactions with the media and people affected by the incident.
Once the insurance is activated, crisis PR firms swoop in and manage a company's image when it's in danger of a media disaster. Recalls happen all the time, says Gene Grabowski, senior vice president at Levick Communications. He estimates that 70% of them don't involve a media component. But the big ones certainly do. Think about BP (BP), which totally blew its crisis PR, and Toyota, that did a pretty good job with it, according to crisis PR professionals.
Toyota may have managed its image well, but it hasn't necessarily ironed out the issues with its products. The National Highway Traffic Safety Administration has ordered Toyota to recall over ten million cars because of acceleration problems. Now, the car company is in trouble again. Toyota will have to yank some 270,000 luxury Lexus and Toyota Crown cars off of lots all over the globe because the vehicles have a defect that could cause the engines to stall.
Why all the recalls?
If it feels like there have been more recalls in the news recently, it's because there have. In 2008, Congress passed the Consumer Product Safety Improvement Act, which tightened safety regulations for products and outlined new steps for product recalls. The updated protocol generally made recalls more expensive. Since then, regulators have issued a greater number recalls with more complicated demands, says Grabowski.
Recalls have gotten more numerous, but they've also hit the media in a more explosive way. Public relations employees have to worry when recall information hits the blogosphere. Part of their job is to quell the quick spread of angry digital murmurings.
"To be in business in the 21st century is to be in crisis," says Grabowski, who says that the 24/7 news cycle and the ubiquity of critics draw attention to recalls. "For a company to be unprepared to be in crisis is the same as being unprepared for shipping a product."
Some recall insurance companies won't finalize deals with clients until they have a plan for dealing with a crisis in place, Grabowski says.
So you've got a corporate crisis on your hands
The chain goes like this. First, insurance underwriters work with companies before a crisis ever hits to make sure there's an emergency strategy. Then, depending on the size of the recall, the company will mobilize a crisis PR unit. Finally, it will have to handle the logistics of taking products off the shelves and storing them.
Crisis PR people can build a website to deflect traffic from the company. Toyota, for example, created a multi-media initiative to try to take control of educating people about the brake pad recall. Crisis PR can also set up a recall hotline number, take charge of emergency marketing like newspaper ads, and try to manage the images that members of the media can access. Controlling the pictures is the first rule of PR, says Grabowski.
It's also key to know how to deal with regulators, says Grabowski. In-house lawyers who aren't familiar with the recall process can muck this up, he says, by arguing over issues like the language used in a press release. "If you talk [in press release style] to a regulator who's underappreciated, they're going to make your life a living hell."
In total, these crisis PR services cost an average of $60,000, says Grabowski. That figure can of course rise dramatically, depending on the scope and duration of the campaign.
Some recalls may not involve the media, but each one has a logistics component. A company called ExpertRECALL in Indianapolis, Indiana forms the part of the recall team that transports, stores, tallies, and sometimes destroys the recalled product. ExpertRECALL has managed over 1500 recalls in several different industries, says Rozembajgier, the vice president of recalls for ExpertRECALL.
They're still storing products from some of them. Remember the Merck (MRK, Fortune 500) recall of Vioxx in 2004? "They house every Vioxx pill that was on the market," says Grabowski. "There's still Vioxx litigation going on," says Grabowski.
ExpertRecall also tracks the data about the recall so that companies can file their final reports to regulatory agencies. "Companies will say, 'we know our supply chain better than anyone else, we can handle the recall,'" says Rozembajgier. But he says when recalls actually happen, companies are too busy keeping the business going to be bothered. "They need to go back to putting the product back on the shelf."
And, perhaps, fixing the problems that caused the recall in the first place.