How we got stuck with BP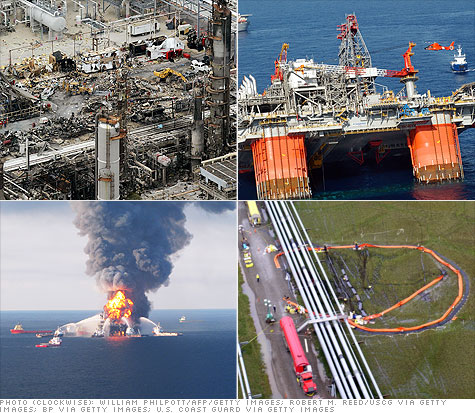 NEW YORK (CNNMoney.com) -- BP is the largest oil producer in the United States, pumping almost as much crude as Exxon Mobil, Chevron and ConocoPhillips combined.
Yet the company arguably has one of the worst safety records of the bunch. So how did America - home to top-notch oil firms - get stuck with BP?
First, the numbers:
BP (BP) produces 744,000 barrels of oil a day. Overall, the country's total daily production rate is 5.4 million barrels, according to the Energy Information Administration. Most of BP's production is from fields in the deepwater Gulf of Mexico and Alaska's Prudhoe Bay, where the company is the lead operator.
Chevron, at 377,000 barrels a day, is the country's second largest producer, followed by Conoco at 339,000 barrels. Exxon, the country's largest oil company by revenue, actually comes in way down the list at number nine, pumping 99,000 barrels a day.
But unlike Exxon, which gets high marks from analysts for its safety record, BP has suffered a string of recent problems.
In addition to the latest disaster in the Gulf, BP also saw its Alaska pipeline spring a serious leak in 2006, its massive Thunder Horse Gulf production platform nearly sink during a hurricane in 2005, and its Texas City refinery explode the same year, killing 15 workers.
To avoid widespread restriction on their business, other oil companies have been keen to paint BP as an outlier in the industry. Whether BP is actually worse than its peers is debatable.
An analysis of Interior Department safety records by the industry newsletter Greenwire showed BP ranking third in the amount of civil fines it has paid since 1997, behind Chevron and Anadarko Petroleum.
But a separate analysis of Occupational Safety and Health Administration records by the Center for Public Integrity showed that since June 2007 97% of the most serious safety violations at refineries went to BP.
"That was shocking," said Fadel Gheit, a senior energy analyst at Oppenheimer. "Their safety record has been dismal for the last four or five years."
So just how did this company with so many black marks become the biggest oil producer in the United States? The story starts four decades ago in the Middle East.
A quest to diversify
According to an extensive history on BP's website, the company has its roots in the Anglo-Persian Oil Corporation, formed after the discovery of oil in what's now Iran by the English entrepreneur William Knox D'Arcy in 1908.
Fast forward to the early 1970s. After a few name changes and several acquisitions, British Petroleum was primarily an oil producing company with most of its assets in the Middle East - specifically Iran, Iraq and Libya.
Upset by what they viewed as decades of raw deals for their oil and Western support for Israel, one by one the Arab governments began to nationalize Western oil assets, beginning with Libya in 1971 and ending with Iran in 1979. BP was in danger of becoming an oil company with no oil.
So they turned to one of the only markets with surging demand, big new discoveries, and at least a semi-predictable government - the United States.
"They were basically refugees, they had no other place to go," said Gheit, a longtime oil analyst who was working for Mobil at the time. "And after you have your oil nationalized, you come to value political stability."
BP ramped up its involvement in the United States in a major way in 1989, when it bought full control of Sohio, formerly Standard Oil of Ohio, once part of John D. Rockefeller's sprawling empire.
BP had partnered with Sohio prior to that on the Alaskan oil field, a major discovery that rejuvenated hope for America's domestic oil production.
With Sohio came a bigger presence in refining - always the main focus of Rockefeller's companies - and the acquisition transformed BP from an oil producer to a truly integrated, international oil company.
In 1998, BP merged with an even bigger U.S. oil firm - Amoco, formerly Standard Oil of Indiana. (The other Standards - New Jersey, New York and California - became Exxon, Mobil and Chevron, respectively.)
In 2000, BP bought ARCO - formerly Atlantic Richfield that had swallowed the Sinclair Oil Company and mining firm Anaconda some years prior - thus cementing its position as this country's leading oil producer.
BP also has extensive operations in the North Sea and Russia.
Yet Gheit points out that in the oil industry, there's no such thing as an "American" company or "British" company.
"Oil is an international business," he said. "It has no nationality."