How Toyota lost its way - Full version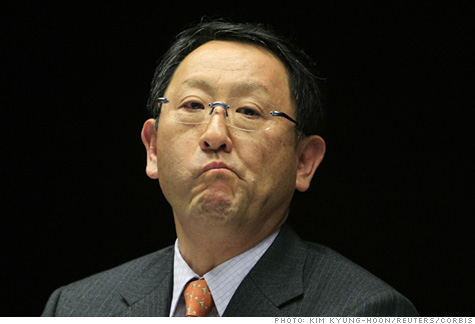 FORTUNE -- A principal ingredient in Toyota's success has been the job of the chief engineer, or shusa. Unlike a chief engineer at GM or Ford, whose role is essentially coordination, the Toyota shusa has complete responsibility for a vehicle, beginning with its conception and sometimes lasting through its entire sales life. Besides engineering decisions, the shusa is responsible for a program's business success. He defines a vehicle's intended market and is responsible for hitting targets of cost, weight, performance, and quality.
Within Toyota (TM), the shusas -- there are currently 38 -- are highly respected and are granted near-absolute authority. But they came under pressure during the term of Katsuaki Watanabe, the company's president from 2005 to 2009. Watanabe, to boost profitability, pressured the shusas to cut costs aggressively. This they did, even though many of the customers they served were thousands of miles away in foreign markets. When they cut too deeply, feedback was not quick to reach them. Admits one high-ranking Toyota executive: "Those engineers are placed in isolated circumstances in Toyota City. They are shielded from market information."
When Toyota customers began to raise questions about the quality of their vehicles, either because they performed unsafely or just looked cheap, Toyota brushed off the complaints and delayed finding solutions. Some current and former Toyota executives in the U.S. came to believe that the shusas were responsible for the company's defensiveness. They thought the shusas deflected questions about quality and were reluctant to take the problems to top management because they feared losing face.
The shusas are emblematic of the idiosyncratic management that served Toyota immensely well when it was trying to conquer the world with superior vehicles -- today Toyota ranks fifth on the Fortune Global 500, with revenues of $204.1 billion -- but that failed it spectacularly when the company was confronted with a storm of complaints about safety. As the company grew, its Japanese leaders never relinquished the iron grip they exercised over the company's operations all over the world and continued to make all important decisions in Japan. Instead of globalizing, Toyota colonized.
In the past 12 months Toyota has issued a dozen recalls covering defects from faulty accelerator pedals to rusted spare-tire carriers -- an extraordinary number for a company once renowned for the quality of its vehicles. In response, Toyota has appointed a chief quality officer, created an advisory panel on safety, and restructured its reporting system in the U.S. to communicate defect issues in a more timely manner. The changes seem mainly cosmetic. Toyota president Akio Toyoda -- grandson of the company's founder -- shows little inclination to alter the corporate structure that allowed the quality issues to fester.
Speaking with Fortune by telephone, Toyoda insisted that what the company needed was not a change in organization but a return to fundamentals. "We maybe slacked in some of our core principles [like] attention to the basics of manufacturing," he said. "It was as if we were engaged in car manufacturing in a virtual world and became insensitive to vehicle failings and defects in the market. Now we understand the gap between virtual world and real world, and we're working hard to fill those gaps. We want to pursue the basic performances in our cars -- run, turn, stop -- and secure the confidence of our customers."
Without deep changes, Toyota's U.S. operations will continue to be overseen by a giant Japanese bureaucracy that protects corporate fiefdoms in Toyota City. Toyota could find itself where General Motors was 30 years ago: with a seemingly dominant market position but an arrogant and inflexible culture that so weakens the company that it eventually collapses.
Internal distrust and flawed communication
Toyota had no more loyal or forceful advocate than Jim Olson during the nearly two decades he served as the company's chief American spokesman. But Olson now believes the company has mismanaged its success. In a book to be published in November, The Little Red Box of Management Tools, Olson writes that "internal distrust and flawed communication are the root causes of its current crisis." Toyota, he argues, did not delegate authority to overseas divisions commensurate with their responsibility. "This division between decision-making and execution," Olson writes, "slows the company down and prevents communication and planning."
Nowhere is that tendency clearer than in Toyota's U.S. business, which has grown into a vast engineering, manufacturing, and sales operation that ranks not only as the third-largest automobile company in the U.S. but also as Toyota's most successful unit. The U.S. now provides an estimated two-thirds of the company's profits, which were $2.3 billion last year. But Toyota has blocked the U.S. operations from becoming too powerful by using the ancient principle of divide and conquer. Rather than organize around a single headquarters, like its major competitors Honda and Nissan, Toyota kept its operations separated in a functional structure that forced each to report back to Japan.
In the past, Toyota's strong operational skills obscured the need for any change in this structure. The company was growing steadily, produced high quality ratings, and was consistently profitable. But when the recall crisis hit and Toyota dealers relayed customer complaints, their reports had to make their way through the U.S. operation and over to Japan, where they were adjudicated by a special committee, which then communicated its decisions back to the U.S. -- all before a recall could be issued.
Jim Lentz, president and chief operating officer of Toyota Motor Sales, U.S.A., the top American executive in the sales and marketing operation, talked about the recall process for the first time when he testified before Congress in February, and he defended the practice to Fortune. "I think the physical location [needs to be] in Japan because, if not, you run the risk of not sharing information," he said. Akio Toyoda says he wants to keep control close to headquarters and sees no need to change. "We are selling our cars all over," he says. "However, the global center is Japan, and it's best to locate the center in Japan in order to review all technologies." A retired Toyota executive has a simpler explanation: "The Toyoda family," he said, "loves to micromanage and is afraid to give up control."
First the problems, then the fallout
While the BP spill has pushed Toyota's recall crisis off the front pages and out of the evening news, the damage caused by the recalls continues to ooze through the company like a spreading oil slick. The company paid a $16.4 million fine for its slow response to the sudden acceleration problem, is laying out hundreds of millions of dollars in marketing incentives to hold on to its customers, and faces the prospect of paying out billions of dollars more in class-action lawsuits. Its reputation for building high-quality cars and respecting its customers has been damaged. Toyota's plunge in the latest J.D. Power survey of initial quality after 90 days of ownership had as much to do with image as with tangibles.
The recall crisis was ignited last summer when the first reports of unintended acceleration became widely publicized. Customers and dealers were fitting cars with floor mats that weren't designed for them, and the thicker mats were interfering with the action of the pedals. The issue burst into the national consciousness in August when a new Lexus E350 carrying an off-duty California Highway Patrol officer and three family members accelerated out of control, hit another car, tumbled down an embankment, and caught fire. All four people were killed. While the car was speeding down the highway at more than 100 miles per hour, one of the occupants called 911 and reported that the car had "no brakes." Preliminary reports indicated that the brakes were fine but the dealer had installed ill-fitting mats.
In September, Toyota announced it was recalling 4.1 million vehicles. It provided modified floor mats that were more adaptable and made the brakes capable of returning the engine to idle when applied, thereby shortening stopping distances. It was the right move, but it came late: Toyota had known that floor mats were causing problems since at least 2007, when it issued an earlier, more limited recall. Soon a second unintended acceleration problem surfaced: Gas pedals, made by an American supplier, were said to be sticking and didn't return to a full neutral position after being depressed. News reports about the pedals produced a contagion of complaints. By one count, Toyota was responsible for nearly three-quarters of the government's vehicle speed control reports.
After that, stories about new Toyota vehicle defects seemed to emerge almost weekly. The company recalled 133,469 Priuses to reprogram the antilock braking system when it was found to be too touchy for aggressive use. Next, wire cables that held in place the spare tires of Sienna minivans were found to be rusting, causing the tires to fall out. Toyota recalled 53,281 vehicles. Consumer Reports discovered that software in Lexus sport-utility vehicles was not sensitive enough to prevent them from rolling over in some situations, leading to another 9,411 recalls.
The bill is still coming due. The cumulative financial loss from all these events could amount to more than $5 billion. That's expensive but not catastrophic for a company known as "the bank of Toyota" that holds some $30 billion in cash.
The reputational loss is harder to quantify. Toyota had known about some defects for years but strenuously resisted taking formal action. Fighting recalls is almost as ingrained at Toyota as efficient manufacturing and the elimination of waste.
A decade ago Toyota bitterly contested allegations that some four- and six-cylinder engines produced between 1997 and 2002 failed because of the buildup of engine oil sludge. Toyota at first blamed the problem on owners for not changing their motor oil. When the complaints became more numerous, Toyota initially told customers it would pay repair costs for one year after purchase as long as customers could provide evidence of reasonable maintenance. Under pressure, it finally extended the period to eight years.
An awkward fit between two cultures
Like nearly all transactions between Toyota Motor Corp., the parent company, and its American sales headquarters in Southern California, recalls involve a negotiation. Toyota likes to say that encourages "healthy debate," but the relationship between headquarters and its overseas affiliate seems designed to produce friction. Culturally and temperamentally, the Japanese and American units appear to be an awkward fit. The Japanese insist on intensive documentation before decisions are made, while the Americans tend to be more impatient and intuitive. American managers are shadowed in their own offices by Japanese "coordinators."
The most frequent disputes arise over what products to sell in the U.S., how they should be designed, and how much they should sell for. At times, Toyota has insisted that the California sales operation distribute cars that U.S. executives felt were ill-suited for their customers. Still talked about is the saga of the subcompact Echo that arrived from Japan in 1999. The Americans didn't want the car, which was designed for other overseas markets, and asked that its hatchback be removed. Japan replaced the hatch with a trunk that was so ungainly that the car was known to some internally as "the hunchback." It sold poorly, but California wasn't allowed to discontinue the Echo until 2005.
When it comes to pricing new cars, Toyota Japan typically insists upon a premium for reasons of prestige and to maintain its corporate margins, while California, more mindful of the state of the American market and the actions of competitors, prefers a more aggressive approach. One big dealer says competitors price more accurately: "Honda focuses very much on customer value and the market, and by hitting the market price frequently, they have required less incentives than Toyota."
Pricing became a big issue for the 2008 Corolla. The car typically appeals to a very cost-conscious customer, but Toyota Japan decided that it could hike the price following a redesign. The Americans disagreed, and when Corolla sales fell in a rising market, they made their move. Rather than suffer the embarrassment of cutting the price, Toyota allowed California to add extra value packages and use incentive offers to reduce the cost to customers.
The longest-running battle has been over full-size pickup trucks for the American market. Big, V-8-powered pickups like the Ford F-150 and Chevy Silverado have been among the most popular and profitable vehicles sold in the U.S. But Toyota executives didn't understand them because they aren't sold in Japan. Toyota resisted entering the segment with a competitive vehicle for nearly two decades.
It took three tries to get the truck right, and by then it was too late. The T100, built from 1992 to 1998, was small and underpowered and failed to dent the market. It was succeeded by the Tundra, which was larger but still not large enough; it was known internally as "the seven-eighths truck." Not until 2007, with the second-generation Tundra, did Toyota introduce a full-fledged competitor to Detroit's trucks. By then, the personal-use truck boom had peaked.
Complicating these kinds of decisions still further, the California sales division shares responsibility for the U.S. market with three other independent affiliates: Kentucky-based Toyota Engineering and Manufacturing, which operates the assembly plants; Toyota Motor America in New York City, which provides corporate functions like legal, lobbying, and financial relations; and Toyota Financial Services, which provides finance and insurance. As the oldest and most Americanized of the three, California has enjoyed pay and benefit advantages that generate some envy. Even so, it has an inferiority complex. Manufacturing is at the company's core, and California can be jealous of the relationship between North American manufacturing and Japanese headquarters. Fearful of seeing its power usurped, California has resisted efforts to establish a U.S. headquarters. "It would probably make things easier," concedes Jim Lentz. "Should we have done it five years ago? Probably so." But he refused to endorse the headquarters idea because of the implied diminution of power for California. "Part of me says it would be great to have a single leadership organization, but I know that's not going to be run by a sales guy."
Akio Toyoda clearly wants to keep the functions apart. In our interview, he pointed out that Toyota had a history of 50 years of sales in the U.S and 25 years in production, and made the point that the history of each affiliate is separate.
Toyota way, the only way
So organizational challenges will remain. But what of the cars themselves? Has their quality suffered? What's most striking about all the recalls is the lack of a common cause. Suppliers, computer programmers, dealers, and yes, the owners themselves have all at one time or another been found at fault. "Each [defect] has its own story," says newly appointed quality czar Steve St. Angelo. St. Angelo says Toyota's own daily statistical audit shows "the best quality we've ever built." University of Michigan professor Jeffrey Liker, who studies Toyota, agrees. "We have allweather floor mats added after the fact and a very tiny number of sticky pedals -- pretty pathetic for bringing down a company as fine as Toyota."
In remarks made trackside at Germany's famed Nürburgring this past spring, Akio Toyoda repeated what has become the company's favorite explanation for the recall crisis: Toyota had simply become too successful. It had grown too big too quickly and wasn't able to scale up its internal controls to keep pace. "In 2003 we hit the 6 million mark and kept growing," he told Automotive News. "We look at that as the turning point. When we hit the 6 million mark, we maybe couldn't apply the Toyota Way" -- management principles like continuous improvement -- "as thoroughly as we should have."
That may be true, but if so, why is nothing being done to halt that growth? Earlier in the decade Toyota was adding 500,000 units of capacity every year -- the equivalent to a company the size of Volvo. There has been no slackening since then. IHS Global Insight expects Toyota production to rise from 8.1 million vehicles in 2010 to 9.5 million in 2012. That is like adding a company the size of BMW. In June, Toyota announced it was opening yet another plant in the U.S., this one in Mississippi, to build Corollas.
As Toyoda almost certainly knows, size alone isn't the explanation for his company's troubles. Like GM before it, Toyota has gotten smug. It believes the Toyota Way is the only way. One highranking Japanese executive, known for his deep understanding of the company, says he has detected an attitude that "what we have been doing is right, and therefore we seem to know the world better." If that outlook persists, Toyota may come to stand for something different in the eyes of consumers -- the company that couldn't understand the lessons of its greatest crisis.