Azul: The next JetBlue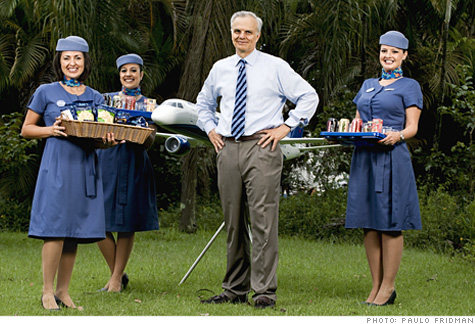 FORTUNE -- Striding through his office complex in Brazil, David Neeleman recounts the various lessons he's learned in 18 years of starting businesses. When he was 23, he started a travel agency. He chose as his main supplier a startup airline that hurtled into bankruptcy, and he lost everything. From that ordeal Neeleman learned a hard lesson: Always bolster your business with plenty of capital.
When Neeleman was 34, he sold his second startup, Morris Air, to Southwest Airlines (LUV, Fortune 500), where he soon became a candidate to succeed CEO Herb Kelleher -- until Kelleher fired him. From that setback, Neeleman learned another lesson: Always be your own boss.
Then, at age 39, Neeleman founded JetBlue (JBLU). He built the airline into America's eighth largest and ascended into the ranks of the most admired and innovative CEOs. But when an epic ice storm hit in 2007 and revealed his deficiencies as a manager -- he staged a haphazard response plan and failed to communicate to the board -- he was ousted. From that, Neeleman learned many more lessons, including the need to design his next company so that his board can't toss him out.
Now Neeleman is putting all those hard-learned lessons to work at Azul, the Brazilian airline he started in 2008 as a Latin twist on JetBlue (pronounced "a-ZOOL," azul is "blue" in Portuguese). It's his biggest gamble yet. Neeleman raised $235 million for the venture, a record for a new airline. Personally, he has invested $13 million, some four times the amount he sank into JetBlue.
Most people would say Neeleman, now 51, is bonkers to bet on another airline, and they wouldn't be wrong. The airline industry is a notoriously bad investment. Of the major industries on the Fortune 500, airlines have the worst 10-year total return to shareholders (-12.6% on average annually from 1999 to 2009). Too many airlines, too many planes, and too many price wars have caused the largest U.S. carriers to lose a total of $60 billion over that period. Warren Buffett, who has said publicly that his 1989 investment in U.S. Airways was a mistake, has shared with Neeleman his doubts about the sector -- and elsewhere has quipped that "if a farsighted capitalist had been present at Kitty Hawk, he would have done his successors a huge favor by shooting Orville down."
But Neeleman is adamant that airlines can pay off -- if you know where to put your money. Brazil, Latin America's largest economy, has rebounded quickly from the financial crisis, with an anticipated 5.8% rise in real GDP this year. The China-like growth rate of its rising middle class -- 100 million people and expanding every day -- has led companies from Coca-Cola (KO, Fortune 500) to Procter & Gamble (PG, Fortune 500) to Ford (FORD) to raise their stakes in Brazil. Neeleman has drawn high-profile investors like private equity firm TPG, which has invested $30 million in Azul.
In its brief life span, at least, Azul has proved Neeleman right. The airline started flying in December 2008 and registered 2.2 million passengers in its first 12 months, shattering the previous record for a startup airline -- held by JetBlue. "It took JetBlue 10 months and 10 days to get 1 million passengers. We did it in less than eight months," Neeleman says. He expects the startup's current headcount of 2,100 to reach 2,500 or more by year-end. Revenue, $150 million last year, will probably more than double this year, he says, and privately held Azul is on track to turn its first profit.
Neeleman isn't in this just for the money. The stakes are personal. He was born in São Paulo and lived in Brazil until he was 5. His father, then a journalist for UPI, moved the family back to Utah. But at 19, David returned to Brazil to do his Mormon mission work.
Gary Neeleman isn't at all surprised that David, the second oldest of his seven children, is back in Brazil. But he frankly wonders how long his son will last at his latest highflier. "David's modus operandi is totally contrary to what a lot of boards and investment bankers are in favor of," says Gary, 76. "To David, service to his employees and customers is paramount." The son insists he's prepared for whatever turbulence lies ahead. "All of us have failures," he says. "What matters isn't what happens to you in life. What really matters is how you react to it."
Soon after he was ejected from the CEO seat at JetBlue three years ago, Neeleman toyed with the idea of starting an ethanol company in California. He sidelined that notion, though, when some investors asked him to go to Brazil to look at an airline in need of capital. He passed (and the airline, BRA, went bust and later reorganized as a charter airline), but it was then that he recognized that a low-cost startup could transform the Brazilian travel market.
Michael Lazarus, the former chairman of JetBlue and now a managing partner at San Francisco venture capital firm Weston Presidio -- an Azul investor -- recalls the moment Neeleman lured him to Brazil. "He had a map. David said, 'Look, this country is almost as big as America. They have 200 million people. We have 300 million. Do you see a rail system to get people around?'"
Neeleman continued his pitch: There's a great bus system, he said, but only one plane for every million people; the U.S. has a plane for every 65,000 people. He ticked off stats on Brazil's middle class. "Do you see any unions down here? And is anyone here using Embraer (ERJ) planes?" Neeleman asked Lazarus, referring to the giant Brazil-based airplane manufacturer that was his supplier at JetBlue. "We are going to be the local airline," Neeleman vowed. (Azul flies only in Brazil.)
These days Neeleman commutes weekly, J.F.K. to São Paulo, on American Airlines (AMR, Fortune 500). Azul is now the only major airline with all Brazil-made jet planes: Neeleman has 18 new midsize Embraer jets in his fuel-efficient fleet and has committed to buy 28 more, at a total list price of $1.7 billion. By charging low fares and providing more frequent and direct service to 17 cities than the competition, Azul has captured 5.8% of the local air-travel market. Says Neeleman about how to succeed in the airline business: "Have the best product. Have the lowest cost. And kill 'em with frequency."
Speed is essential here. Neeleman, who went public with his diagnosis of attention-deficit disorder a few years ago, has assembled a management crew that abhors bureaucracy and just does it. Chief operating officer Miguel Dau, a former Brazil air force captain who used to fly F-15 fighter jets, says Azul is run like a "military operation. I never saw a project with such growth in such a short time ... Crazy, crazy, so fast!" Azul president Pedro Janot previously headed the Brazil division of Zara, the Spain-based apparel retailer widely regarded for its speedy logistics.
"I gotta get to work," says Neeleman as we hit cruising altitude on a flight from Campinas, Azul's hub near São Paulo, to Porto Allegre. Just as he had at JetBlue, Neeleman has developed a following among Azul fliers, with a folksy shtick that's straight out of JetBlue's and Southwest's playbooks. The CEO bounds to the front of the plane, grabs the mike, and speaks in Portuguese to 100 passengers on their way to Brazil's southeastern coast. "How many people have flown Azul before?" he asks. "How many have flown in any airplane before?"
A year ago few hands went up. But Neeleman has converted thousands of Brazilians to traveling by air -- not unlike 30 years ago, when on his mission he converted some 200 Brazilians to Mormonism. Now his gospel is, as his father says, prioritizing passengers over profits while keeping the long-term gain top of mind. Since many Azul customers don't have cars and taxis are expensive, Neeleman decided to provide free bus service from points in São Paulo and five other cities around the airport. When Azul's finance team argued that the company could make an extra $20,000 a day by charging $10 for bus fare, Neeleman wouldn't have it.
At Azul headquarters, a former TV studio on the western edge of teeming São Paulo, Neeleman espouses the same values, railing against perks and hierarchy. He assigned parking places by lottery. When one of his star managers griped about getting a faraway spot, he told him, "Dude, if you act like that, you're never going to be a vice president here." Neeleman's annual salary is $200,000 -- no stock options.
Neeleman learned how to treat employees from, of all people, Herb Kelleher, the Southwest CEO who fired him back in the '90s. Neeleman lasted only five months at Southwest before Kelleher concluded he was too pushy and impetuous to work with, much less succeed him someday. Kelleher now calls Neeleman "an entrepreneurial genius," but also "the exact opposite of an organization man." Adds Kelleher: "David was not amenable to abiding by collective decisions," a gentle way of saying Neeleman drove people nuts. Even though Kelleher ushered him out with the words, "You're a pain," Neeleman claims that Southwest's legendary boss gave him the best advice he ever got: "Don't think about shareholders. Think about crew members. The crew will take care of the customers. The customers will take care of the shareholders."
"If I hadn't gotten fired from Southwest, there would never have been a JetBlue. And if I hadn't gotten fired from JetBlue, there wouldn't be an Azul," says Neeleman, in stocking feet, sprawling his 6-foot-1 frame across the back seat of his bulletproof Ford Fusion. It's now Thursday evening. Another workweek behind him, another redeye ahead. By tomorrow morning Neeleman will be home for the weekend with his wife, Vicki, and their kids in Connecticut.
Neeleman admits he has to overcome plenty of odds to succeed this time. Fuel costs are exorbitant in Brazil because of state and federal taxes. Corruption is ubiquitous. Safety is a worry: Neeleman travels around Brazil with a bodyguard/driver, a burly fellow named Paulinho who packs a pistol.
The biggest issue, though, may be Neeleman's own management proclivities. At JetBlue he failed to surround himself with strong enough operators -- which proved tragic in 2007 when that Valentine's Day ice storm grounded thousands of flights and left passengers stranded on runways. Neeleman's critical mistake at JetBlue, he believes, is that he didn't communicate enough with his board. "When things start going south, communication should increase," he says.
And that's where all those hard-learned lessons from the past come in. At Azul, Neeleman is doing all he can to protect himself. He keeps in touch with Azul's directors beyond scheduled board meetings. He owns 15% of Azul but has voting control -- making it impossible for the board to kick him out. "I've set it up so I can't get sucker-punched again," he says.
For the most part Neeleman has distanced himself from JetBlue. While he once owned 10.8 million shares, he now has just a couple million -- and as an investor he's not happy. JetBlue's share price is down 40% from when he exited three years ago. "The stock price doesn't lie," he says.
But there's some contact he can't avoid. Every week, en route to and from Brazil, Neeleman taxis past the JetBlue terminal at JFK. And he says he constantly encounters JetBlue crew members who tell him they wish he would come back. It's bittersweet for their former leader, who thinks the adulation is overblown. "I certainly wasn't perfect," Neeleman says, ruefully. "Maybe I'm kind of like Kennedy. Shot in my prime, and now everybody thinks I was better than I was." The remark is vintage Neeleman -- grandiose and a little bit out there at the same time.