Hey, corporate misers. Stop hoarding cash!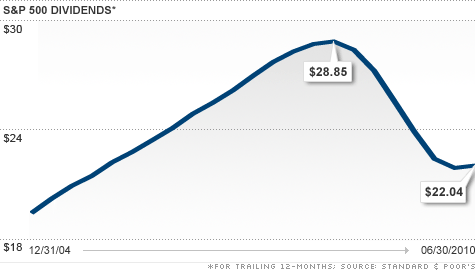 NEW YORK (CNNMoney.com) -- The parade of tall earnings continues. Intel joins Alcoa and CSX on the list of blue chips that have reported better-than-expected results and a healthy outlook for the rest of 2010.
But companies, despite a growing sense of optimism, are still saving for a proverbial rainy day and hoarding cash.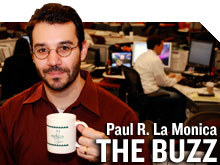 If the economy is really improving and demand is truly coming back, isn't it time for these corporate misers to start paying shareholders back?
Intel, for example, disclosed on Tuesday that it had $17.8 billion in cash at the end of the second quarter. That's up from a cash pile of $16.3 billion as of March. A year ago at this time, Intel had $11.3 billion in cash.
To be fair, Intel (INTC, Fortune 500) boosted its dividend by 12.5% in the first quarter of this year. So it's putting some cash to work.
But it's fair to wonder why Intel hasn't done more -- especially since the company was bold enough to impersonate Comic Book Guy from "The Simpsons" and proclaim in its press release that it just had its "Best Quarter Ever."
Intel's cash balance has surged 58% in the past year. And the company, despite having a stock buyback program, hasn't cut its share count.
Total diluted shares outstanding are up 2% from a year ago. Isn't the point of a repurchase plan to use cash to reduce shares outstanding and increase the value for existing shareholders?
Intel's not alone.
Pierre Lapointe, global macro strategist with Brockhouse Cooper, a brokerage firm in Montreal, pointed out that while the number of buybacks announced by S&P 500 companies has increased from 2009, the total is still well below the number of buybacks announced during 2006 and 2007.
In fact, the dividend per share for the S&P 500 is at its lowest point since 2006.
Lapointe said that sooner or later, investors are going to demand that companies do something productive with their cash -- especially if interest rates remain as low as they are for the foreseeable future.
"Investors at some point will want companies to use excess liquidity instead of keeping it in Treasury bills that will earn them next to nothing," he said.
With that in mind, it will be interesting to see if other companies notorious for having George Costanza-esque fat wallets will face pressure to use their cash to help boost their growth.
Google (GOOG, Fortune 500), General Electric (GE, Fortune 500), Microsoft (MSFT, Fortune 500), Apple (AAPL, Fortune 500) and Johnson & Johnson (JNJ, Fortune 500) -- which all have at least $18 billion in cash -- will be reporting their latest results in the next week.
Dividend hikes (or in the case of Google and Apple, paying dividends period) and stock buybacks are just two ways a company can put its money to work in a more effective manner. They could also use cash to increase capital spending or buy other companies.
Here's another thought. They could actually start hiring more people again!
"Companies should be looking to do something with their cash. The question is where you put it. We would love to see companies reinvest in the business. That means plants, equipment and people," said Mark Phelps, CEO of W.P. Stewart & Co., an investment firm in New York.
That would really send a signal that the improvement in the economy is for real. Unfortunately, Phelps thinks it will take another couple of quarters before the fog of uncertainty hanging over the economy lifts.
Keith Springer, president of Capital Financial Advisory Services, in Sacramento, Calif., agreed. He said that even though some firms are trying to put on a happy face and talk about demand improving, their actions show otherwise.
"The economy is continuing to slog through the mud. Companies see declining retail sales and tight credit from banks and there's no need to do anything with their cash," he said.
So expect companies to keep their powder dry and continue boosting cash levels. And while it's encouraging that corporate balance sheets are healthy, it's hard to get too excited about that.
Cash may be king but it only makes a difference for the economy when companies actually spend it.
"There is a real disconnect here. Companies seem unwilling to hire people and invest," said Adrian Cronje, chief investment officer of Balentine, an investment firm based in Atlanta. "That needs to occur for this recovery to turn into a real expansion."
- The opinions expressed in this commentary are solely those of Paul R. La Monica. Other than Time Warner, the parent of CNNMoney.com, La Monica does not own positions in any individual stocks.