Put some duct tape on Apple stock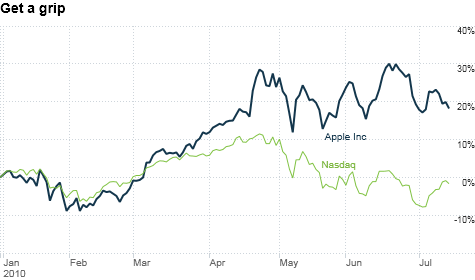 NEW YORK (CNNMoney.com) -- Apple finds itself in an unusual position: It's not popular with customers or investors right now.
The iPhone 4, thanks to signal problems caused by a so-called "death grip," isn't getting the lavish praise that just about every other product with an i- prefix has received.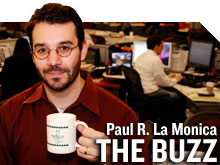 Product ratings bible Consumer Reports said Monday it "can't recommend" the phone because of the reception glitch -- which can be fixed with a piece of unsightly duct tape.
As a result, Apple's stock has taken a noticeable hit in the past week. Shares of Apple (AAPL, Fortune 500) were down about 1.5% Thursday. Since the iPhone 4 came out in late June, the stock has fallen 8%.
Apple has even missed out on the recent rally in the tech-laden Nasdaq. Stellar results from chip kingpin Intel (INTC, Fortune 500) have helped lift shares of Microsoft (MSFT, Fortune 500), Dell (DELL, Fortune 500) and Hewlett-Packard (HPQ, Fortune 500). But not Apple.
That's led Apple to take the highly unusual step of holding a hastily put together press conference this Friday to address the iPhone snafu. Apple CEO Steve Jobs is expected to speak.
There has been some chatter that Apple could pull a Toyota and announce a recall, but most gadget geeks believe that's highly unlikely.
My guess is that Jobs will say enough to satisfy the cult of Mac fans who typically fawn over all things Apple. But will the harder-to-please crowd of Apple investors be so forgiving?
Probably. It seems silly to bet against Apple at this point, even with the iPhone 4 snafu.
Analysts say that the problem, while significant, doesn't appear to be so big that Apple won't be able to overcome it.
"This looks like a one-time, short-term blip. It seems like it should be a simple enough fix. Production of the iPhone 4 is still going full blast," said Vijay Rakesh, an analyst with Sterne Agee & Leach in Chicago.
Some are speculating that Apple could provide consumers a temporary fix by giving iPhone 4 users a free bumper case -- which solves the signal problem and doesn't make you look like MacGyver in the process.
Abhey Lamba, an analyst with ISI Group in New York, estimated that a free bumper could cost Apple about a half-penny per share for every 1 million iPhones shipped. So even at, say, 20 million iPhones over the next few quarters, that's a hit of just 10 cents per share.
To put that in perspective, Apple is expected to earn $13.80 a share this fiscal year, which ends in September, and $16.39 in fiscal 2011.
Lamba said that a fix is a priority not to appease current customers -- most early iPhone 4 buyers are already Apple loyalists -- but to entice future shoppers.
"The could be an issue attracting new customers. They need to resolve it," he said. "Doing nothing is no longer an option."
Lamba said it's possible that companies making phones tied to Google's (GOOG, Fortune 500) Android operating system, most notably Motorola (MOT, Fortune 500) with its Droid phones, could capitalize on Apple's problem. BlackBerry maker Research in Motion (RIMM) could also gain some share.
But he doubts it .The iPhone is still almost universally adored, despite issues with iPhone provider AT&T (T, Fortune 500). It's no secret that Verizon (VZ, Fortune 500) and many of that company's customers (me included) are hoping that a long-awaited CDMA version of the iPhone will finally be launched soon.
Apple will also be reporting its latest quarterly results on Tuesday. That should be enough to convince anyone nervous about the iPhone 4 issues to stop worrying.
Analysts are predicting that Apple will report sales of $14.6 billion, a 75% increase from a year ago. Profits are expected to soar more than 50% from last year, to $3.07 a share.
As impressive as that growth is, the estimates are probably too low. Apple has typically blown away analyst targets -- it plays the game of underpromising and overdelivering when giving analysts guidance.
Despite that, Apple's stock isn't too expensive. Thanks to the recent dip, it now trades at about 15 times fiscal 2011 earnings estimates.
So as long as Jobs doesn't come across on Friday as tone deaf as say, BP's Tony Hayward, or try to dodge responsibility for the iPhone 4 glitch, investors will probably forget all about it soon.
"Apple, to its credit, has executed well in the past and has historically responded quickly to consumer needs," Rakesh said. "They've had a hiccup. Even the big guys have hiccups. The question is how you deal with it."
- The opinions expressed in this commentary are solely those of Paul R. La Monica. Other than Time Warner, the parent of CNNMoney.com, La Monica does not own positions in any individual stocks.