You can't fight the drilling ban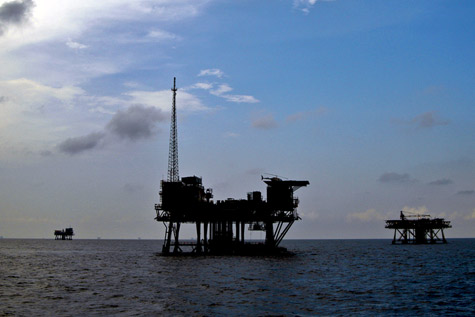 FORTUNE -- The legal back-and-forth surrounding the deepwater drilling ban in the Gulf is distracting from a key truth: Nobody drills until the Obama administration says they can.
A six-month moratorium was first put in place on May 28 following the Gulf oil spill. Secretary of the Interior Kenneth Salazar said he would pause all new drilling contracts until a committee appointed by the president could review the safety regulation process of deepwater drilling in the Gulf. Barring any unexpected delays, the review was expected to be ready by the end of November, and the moratorium could be lifted.
But on June 22, a federal judge overturned the ban, and the oil industry cried victory, but it was short-lived. A government attempt to overturn the ruling was denied by a U.S. court of Appeals on July 8. So Salazar did an end-run around the industry: He re-worked the old moratorium, issued a new one on July 12, and changed the label to "suspension," which sounds more temporary.
Salazar's move signals a strategy -- and the power -- the government has: No matter how many times a judge strikes down a ban under any name, the Obama administration is prepared to issue another one.
Bending a little but not that much
Salazar has said he is willing to review new information from companies about safety. So they could be able to get a permit if they would also take full financial responsibility for a screw-up, says Kevin Book, Managing Director of Research at a consulting firm called ClearView Energy Partners. But nobody would do that, he warns, "No CEO of any company is going to bet the company on an unknown."
Big private and publicly traded oil companies may have vocally decried a ban, but they've steered clear of legal action altogether. Smaller industry players led by Hornbeck Offshore Services (HOS), which transports workers and supplies to deepwater rigs, have led the charge.
But these small companies are bound to lose, says Book. "One of the things they cannot succeed in doing is compelling the interior to ignore regulations based on safety." The government isn't going to budge, he says, and the other side doesn't have a strong case. "The interior department is actually not doing something unjust in that a blanket action in the name of safety would be hard to contest."
So why bother?
Big oil companies aren't fighting the government in court even though they're burning up to a million dollars a day renting inactive rigs in the Gulf. That's for a number of reasons:
First, big oil is regulated by the government while oil service companies like Hornbeck aren't. So big companies have less of an incentive to start a giant legal battle against a regulator. Second, compared to service companies, big oil is much more capable of absorbing the cost of a stagnant rig. Many have other assets outside the Gulf, while smaller companies may depend entirely on their local operations Third, several big oil companies are declaring a force majeure -- meaning that because of circumstances out of their control, they can't drill, which means that they don't have to pay their contractors.
Since oil service companies stand to lose a lot more, they need to go on record as fighting the moratorium, says Book. "It makes symbolic sense in the sense that if you don't fight to defend something, it makes it awfully hard to complain about it later. But the government holds all the cards."
Soon to be moot
By the time any lawsuit goes through, six months could have easily passed, and the drilling ban may be lifted.
It's worth the fight up to a point, says Bill Masterson, an oil and gas lawyer with Kilgore & Kilgore in Dallas. "As long as the companies can keep the moratorium from going into effect, it's in their interest to keep the litigation going."
But, he adds, litigation against the government can take years. "I don't know that it would be worthwhile to continue to fight it until the moratorium expires. Once it expires, it's a moot issue."