Goldman's 'Fab': I didn't do anything wrong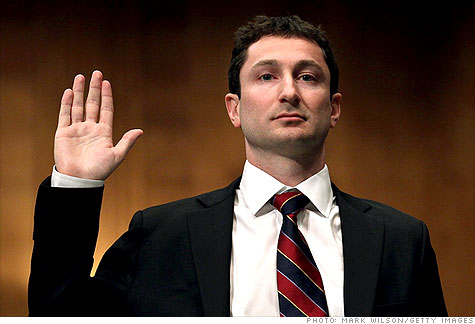 NEW YORK (CNNMoney.com) -- The Goldman Sachs trader at the center of a deal that led to the firm's recent settlement with the SEC has asked a federal district court to dismiss fraud charges against him.
Through lawyers hired by Goldman (GS, Fortune 500), Fabrice Tourre filed a 13-page document to the Southern District Court in Manhattan asking the court to "dismiss" the Securities and Exchange Commission charges from April that accuse him of deliberately misleading investors.
Tourre, the SEC says, sold a portfolio of real estate investments in 2007 that had a high likelihood of going down in value, because it had been selected by hedge fund Paulson & Co., which had an interest in its failure. Tourre, the SEC says, did not disclose Paulson's role.
Investors lost $1 billion on the deal.
The legal request, filed by firm Allen & Overy, says that the SEC's accusation "fails to allege the existence of any material misstatement or omission."
The document also says, "Neither Mr. Tourre nor Goldman Sachs had a duty to disclose any allegedly omitted information."
"The purported claims against Mr. Tourre and the allegations upon which they are based are improperly vague, ambiguous and confusing, and omit critical facts," reads the request for dismissal.
Tourre's lawyers submitted the request just days after the SEC fined Goldman $550 million If the settlement is approved by a judge, then Goldman will return $250 million to affected investors and pay $300 million to the U.S. Treasury.
Goldman is also paying for Tourre's legal defense.
Tourre earned his "Fabulous Fab" nickname in April, when the SEC released an e-mail message that he allegedly wrote to a friend in 2007, boasting of his Wall Street prowess while suggesting knowledge of his firm's corrosive investments.
"More and more leverage in the system, The whole building is about to collapse anytime now ... Only potential survivor, the fabulous Fab[rice Tourre] ... standing in the middle of all these complex, highly leveraged, exotic trades he created without necessarily understanding all of the implications of those moustruosities[sic]!!!" wrote Tourre on Jan. 23, 2007, according to the SEC.

On Tuesday, Goldman announced that its second-quarter profit plunged 82%, partly because of the SEC settlement.
For the quarter, Goldman said it earned $613 million, or 78 cents a share, compared to $3.44 billion, or $4.93 a share a year earlier.