The Honest Tea guys look back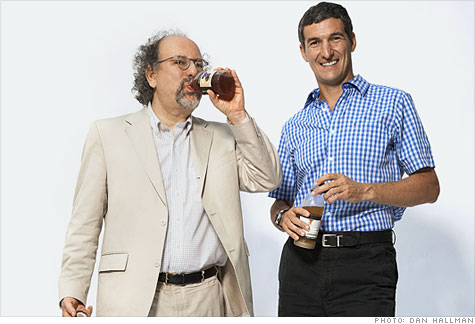 FORTUNE -- In September 1997, I went for a run with a friend in New York City. We both wanted a tasty post-exercise drink, but everything on the market was too sweet.
I'd had the same discussion three years earlier with Barry Nalebuff, my business school professor at Yale. I e-mailed Barry, who had just returned from India, where he was writing a case study about tea.
He told me that tea was one of the world's cheapest luxuries, but that bottled teas in the U.S. were made from the lowest-quality tea. Barry and I had always wanted to work together. We had our product.
I had no experience in the beverage industry, but I quit my job at Calvert, a socially responsible investment firm, and Barry and I began brewing tea in my kitchen [in Bethesda, Md.]. In March 1998 we took a batch of tea in thermoses to Whole Foods (WFMI, Fortune 500), and the buyer ordered 15,000 bottles.
Over the next eight weeks we had to raise money, design the labels, and make the tea. Filtering those tea leaves was no easy task! We also found that by cutting down the amount of sweetener, we could afford to use natural sugar sources, a move that eventually led us to make our drinks all organic.
As health and environmental concerns hit the mainstream, our teas took hold, and after ten years in business we sold 40% of the company to Coca-Cola (COKE).
Our goal: to see Honest products in stores around the world.