Bratz returns to MGA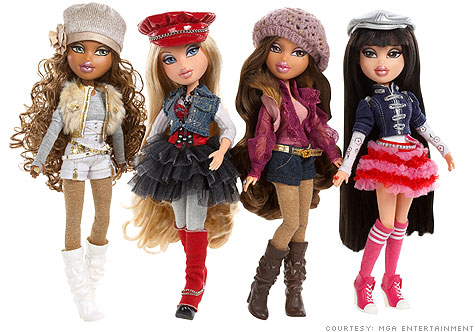 NEW YORK (CNNMoney.com) -- The Bratz go back to MGA Entertainment, after an appeals court overturned the 2008 ruling that gave Mattel ownership of the dolls that dethroned Barbie.
The 9th U.S. Circuit Court of Appeals in San Francisco dismissed the December 2008 ruling that gave Mattel ownership rights to MGA's Bratz line, because the idea for the dolls was developed by designer Carter Bryant -- while he was a Mattel employee.
Mattel (MAT, Fortune 500), maker of Barbie, was awarded $100 million in the case two years ago.
But the appeals court Chief Judge Alex Kozinski cited several errors in how the trial judge instructed the jury. He said the language of Bryant's employer agreement with Mattel is "ambiguous," as it gives the company rights to inventions created "at any time during my employment by the Company."
MGA argued that the contract's language only covers work created within the scope of the job, and not work done during an employees' own time or outside of their duties at the company.
Instead of submitting the issue to the jury, the trial judge granted a summary judgment that alone determined Mattel's contract with Bryant covered the Bratz dolls in question.
"Because several of the errors we have identified appeared in the jury instructions, it's likely that a significant portion -- if not all -- of the jury verdict and damages awarded should be vacated, and the entire case will probably need to be retried," Kozinski said.
Mattel said in a statement it looks forward to a full trial, and has great confidence in "the ability of a jury to right the wrongs that Mattel has suffered."
On the other hand, thankful for what it called "a sweeping victory," MGA said it is launching a new line of Bratz products to hit store shelves in August.