As Barbie celebrates her 50th anniversary, middle age may be her time to shine (again).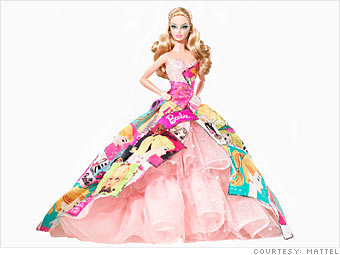 Barbie may have gotten all dressed up for this special 50th anniversary "Generation of Dreams" edition, but no one is claiming she looks this good naturally. The doll has been through more than half a dozen face sculpts, and has regularly had her build altered to conform to changing attitudes. With her makeover complete, "Generation of Dreams" Barbie is featured in a gown decorated with illustrations of the icon in her early years.
But it's been a while since Barbie was at her height, so Richard Dickson -- who became general manager and senior vice president for the Barbie brand in September 2008 -- has been tasked with reviving the flagging brand.
NEXT: Gone with gold lamé