Europe's big banks pass stress tests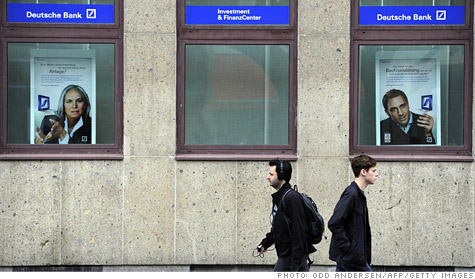 (FORTUNE) -- Most of Europe's biggest banks passed stress tests aimed at shoring up confidence in the region's economy, officials said Friday.
Officials led by the European Central Bank tested 91 banks, and all the major lenders passed. One state-owned German real estate bank, one Greek bank and five smaller Spanish banks failed and will have to raise new funds.
The test showed Europe's banks could suffer 566 billion euros ($730 billion) in asset writedowns and trading losses over the next two years should the region suffer a recession and an interest rate spike tied to national solvency fears.
But officials said most banks would emerge from a downturn in good shape, with the regionwide bank capital level slipping by a point to 9%. The minimum safe level for the sake of the exercise was 6%.
Supervisors also said they would "welcome" individual banks' publication of further information on the results of their individual examinations, which could afford investors further insight into lenders' condition.
Policymakers published the test results in hopes of restoring confidence to European funding markets, which have been wracked by fears that a sovereign debt default will lead to another slew of bank failures.
The design of the test raised some eyebrows in the markets. Supervisors said they discounted the value of sovereign bonds held by banks, but only for those bonds held in the banks' trading accounts. Bonds that the banks plan to hold to maturity weren't discounted under the test.
This leaves open the possibility that a bank holding Greek government bonds, for instance, could pass the test -- and still suffer crippling losses in the case of a Greek default.
That's a major weakness of the test, and will feed skepticism about whether the exercise actually accomplished anything.
Even so, the tests are likely to have at least a modestly positive effect on sentiment in the banking sector in Europe.
Stress tests conducted in the United States faced similar skepticism last year, with many observers contending they weren't tough enough to show how banks might perform in a deep downturn.
A year later, banks are still under intense criticism for their failure to extend more loans to small businesses at a time of high unemployment. But few observers worry now about whether the biggest U.S. banks could withstand another economic downturn, which shows the stress tests worked much as backers like Fed chief Ben Bernanke promised.