Dell and Intel: Big Tech behaving badly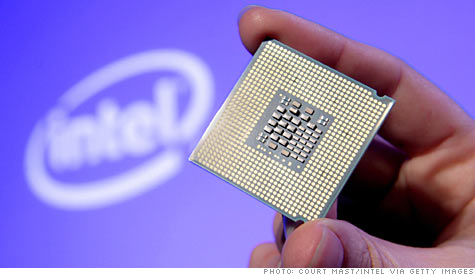 NEW YORK (CNNMoney.com) -- Thursday's $100 million settlement between Dell and the Securities and Exchange Commission was a reminder that the government is going after tech's bad boys -- and Intel is likely next on the feds' list.
According to the SEC's complaint against Dell, Intel paid the computer maker rebates as part of a deal in which Dell agreed not use microchips manufactured by Intel's rival AMD. We're not talking small change: The payments totaled $4.3 billion between 2003 and 2006.
That's actually not what landed Dell in hot water. Instead, Dell was charged with defrauding its investors by pretending that those payments were operating income. The maneuver artificially inflated Dell's balance sheet and helped it beat Wall Street's earnings estimates for four years.
But Intel's naughty behavior continues to be the subject of a separate Federal Trade Commission antitrust investigation, parts of which were used in the SEC's case against Dell. That probe appears to be nearing an end: The FTC this week extended its deadline to settle with Intel over a years-long antitrust suit. The deadline, which was scheduled for Thursday, was extended for two weeks as the FTC considers Intel's proposed settlement deal.
Intel (INTC, Fortune 500) has already been slapped with penalties for using its dominant market position to bully chip customers into exclusively buying its products. The European Union conducted its own Intel probe that culminated in a record $1.45 billion fine, levied in May 2009. New York Attorney General Andrew Cuomo is also investigating Intel for antitrust violations.
In November, Intel inked an peace treaty with AMD (AMD, Fortune 500). The world's largest chipmaker paid its rival $1.25 billion and agreed to abide by "a set of business practice provisions." In return, AMD dropped all three of its pending lawsuits against Intel.
"[Intel] doesn't have an obligation to help us; they do have an obligation not to do things that are intended to hurt us," Dirk Meyer, AMD's chief executive, said when the settlement was announced.
Dell's hidden kickbacks
For Dell, the money train really took off in 2003, when Intel sharply increased its payola. The SEC noted that the rise coincided with AMD's April 2003 release of its new Opteron processor -- which many analysts believed to be technologically superior to Intel's competing Xeon processor.
According to the EU investigation's findings, Dell wasn't the only computer maker that Intel paid to stay away from AMD. Intel also gave rebates or direct payments to Hewlett-Packard (HPQ, Fortune 500), Lenovo, Acer, and NEC.
What made Dell's case stand out is how the computer maker reported that income to its investors. Dell never disclosed that it was receiving those payments, and when Intel's incentives stopped coming in May 2006, Dell's quarterly operating profit dropped by 36%. Three-quarters of that decline was directly attributable to the disappearance of Intel's payments, according to the SEC.
But Dell (DELL, Fortune 500) lied to investors, telling them that the severe drop was due to the company "pricing too aggressively on slowing demand" and to component costs falling less than expected, the SEC said.
The deception went straight to the top. Dell founder Michael Dell and former CEO Kevin Rollins were each fined $4 million for acting complictly in the fraud. The SEC also fined several other high-ranking executives. Among them, only Michael Dell remains with the company in a top position.
When the government first began investigating Dell in August 2005, Dell hired outside investigators to conduct an internal review of the company's accounting activities. That probe lasted a year and involved nearly 400 lawyers and forensic accountants examining 5 million documents. In the end, they concluded that Dell's financial controls were weak and that senior executives had manipulated accounts to meet quarterly performance targets.
In January 2007, while the internal investigation was still ongoing, Rollins was forced out and replaced by Mr. Dell, who had been serving as chairman of the board at the time. Dell adjusted its financial results from between 2003 and the first fiscal quarter of 2007.
Dell's $100 million settlement gets it off the hook with the SEC. Despite the SEC's finding that Michael Dell was involved in the fraud, the company's board continues to stand behind him and said he will retain his position as CEO.
But Dell has other legal battles ahead. Unrelated to the Intel payments, a Web hosting company called Advanced Internet Technologies has sued Dell for selling faulty computers that the computer company allegedly knew would fail. The case is set to go to trial in October.
Other big tech companies are also in the government's crosshairs.
The FTC is reportedly looking into Apple (AAPL, Fortune 500) for blocking Google's ad network from its iPhone applications. Google (GOOG, Fortune 500) is facing its own Department of Justice investigation -- the DOJ is determining whether Google's settlement with authors and publishers over Google Books went too far. That deal allows Google to sell digital copies of out-of-print books that are still copyrighted.
Perhaps the most famous antitrust suit against a tech company was the U.S. government's decade-long crusade against Microsoft (MSFT, Fortune 500).
The government came close to breaking the company up, but eventually settled in 2001 for a much less drastic set of changes that included ongoing monitoring by a regulatory watchdog. The European Union took a harsher stance, and in 2008 fined Microsoft $1.2 billion for pricing out rivals and refusing to comply with the terms of the court's previous antitrust decision.