Democrats' fix for thorny economic debate: Manufacturing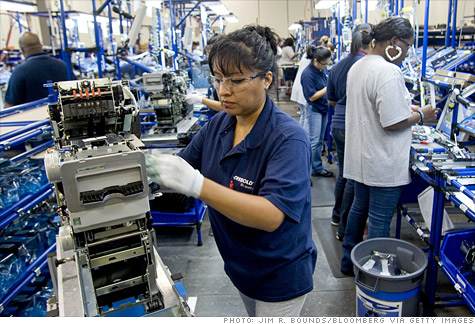 FORTUNE -- There aren't a lot of encouraging signs for the manufacturing industry these days as the economic recovery struggles to gain traction. So unemployed factory workers could be forgiven for getting their hopes up last week when House Democrats rallied around their new "Make it in America" agenda.
As House Speaker Nancy Pelosi (D-Calif.) put it after the party rolled out the campaign on Thursday, "Democrats are fighting to restore the words 'made in America' to the center of our economic success."
But the effort is more about saving the jobs of endangered Democratic incumbents than creating new ones on production lines. Democrats are facing potentially devastating losses in the midterms -- an election that both parties realize will turn on employment. And with the jobless rate expected to hover close to 10% through November, Democrats are increasingly desperate to generate some light and heat from their stalled jobs push.
Enter the campaign to boost manufacturing, an agenda born from a poll. A survey by Democratic pollster Mark Mellman and Republican Whit Ayers, which was conducted in the spring but became a hot topic among national party leaders starting last month, found deep popular angst with the decline of America's manufacturing might.
Nearly four in ten said industry is the most important to the overall strength of the American economy, far ahead of other sectors. About six in ten believe the United States no longer has the strongest economy in the world, with the overwhelming majority of those identifying China as the nation that has displaced it. And 78% want the U.S. to develop a national manufacturing strategy to respond.
The survey results, while stark, also presented Democrats with an opportunity. The party has been locked in a lose-lose debate over how to proceed on the economy. Most House Democrats believe more stimulus money is required to prevent an economic backslide as the boost from last year's recovery package tapers. But with voters howling about deficits, most also view any significant new spending as politically toxic. Besides, they reason, what would be the point? With near-uniform Republican opposition gumming up the Senate, only must-pass bills have any chance of seeing the President's desk this year.
November strategy
With their manufacturing agenda, Democrats can skip the internal stimulus versus deficit-cutting debate altogether. The party is holding close its plans for the entire legislative package -- which they plan to roll out week by week until lawmakers quit Washington for the campaign trail in October. But so far, it appears the measures will fall into one of two categories: bills that won't pass the Senate, and bills that wouldn't much matter if they did.
Democrats kicked off the campaign last week by passing the "U.S. Manufacturing Enhancement Act" -- a mundane vehicle for tariff breaks that the party spiffed up with a new name to fit the messaging push. On tap for this week: "The National Manufacturing Strategy Act," directing the President to create a manufacturing strategy every four years; "The End the Trade Deficit Act," creating a commission to develop strategies to reduce the trade deficit; and "The Clean Energy Technology Manufacturing and Export Assistance Act," requiring the Commerce Secretary to advise clean-energy outfits.
Meanwhile, top Democratic aides are working with industry groups to head off any provisions that would engender private-sector opposition. One early problem: a proposal from sophomore Rep. Betty Sutton (D-Ohio) that would force foreign manufacturers to be legally accountable for products they sell in the U.S. The National Association of Manufacturers is arguing that language in the bill would effectively force companies it covers to waive their right to defend themselves against suits. "Who needs a food fight on the floor?" one senior Democratic aide said, suggesting the language should be dropped.
Indeed, the whole point for Democrats is to hand easy wins to the most endangered in their ranks -- many of whom hail from Rust Belt districts hit particularly hard by the recession. "This gives our guys a boost heading into August," said another Democratic leadership aide, referencing the upcoming congressional recess that was dominated last year by scenes of angry town hall protests over health-care reform. "It's a sharper message on jobs that plays well in their districts. It's branded. People understand it."
The PR push comes as some corporate chiefs are starting to evangelize about the need to rebuild an American manufacturing base. GE (GE, Fortune 500) CEO Jeff Immelt in a recent private gathering called the U.S. a "pathetic exporter," according to the Financial Times. In an interview with Fortune earlier this month, Immelt implored President Obama to turn his focus to jobs and the economy so that companies like his will be willing to invest again. And Intel (INTC, Fortune 500) CEO Andy Grove made his case for a domestic manufacturing renewal in a recent Bloomberg BusinessWeek commentary, bemoaning "a general undervaluing of manufacturing -- the idea that as long as 'knowledge work' stays in the U.S., it doesn't matter what happens to factory jobs."