States face another $12 billion budget shortfall
NEW YORK (CNNMoney.com) -- States filled an $84 billion gap to balance their 2011 fiscal year budgets, which took effect earlier this month. But they could collectively face a new $12 billion hole if Congress fails to help cover growing Medicaid costs.
Without another injection of government money for Medicaid, four states -- California, Texas, North Carolina and New York -- could face new gaps exceeding $1 billion each, while 21 others could see shortfalls over $100 million, according to a budget report issued by the National Conference of State Legislatures.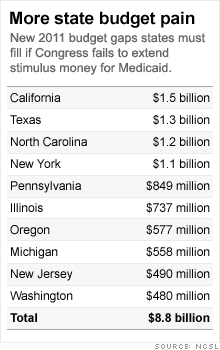 The Recovery Act initially paid out additional money for the insurance program -- which helps the poor -- through Dec. 31, the halfway point for most states' 2011 budgets.
Then, earlier this year the House and the Senate approved measures that extended the payments through June 30, 2011. As a result, many state legislatures became optimistic and planned their budgets around having the additional funding.
But the bills have since fallen victim to mounting concerns over the national deficit.
And though state officials say revenue is beginning to pick up and will likely surpass 2010 collections, the growth is still not sufficient to offset the loss of stimulus funds.
"States are in a tenuous fiscal position, teetering between delicate revenue improvement and the end of the federal stimulus funds," said Corina Eckl, National Conference of State Legislatures' fiscal program director.
"If Congress decides not to extend enhanced [Medicaid] rates for six months, it will be another blow to the states' fragile recovery," she added.
In fact, a majority of states are also worried about budget challenges for fiscal years 2012 and 2013. So far, 33 states anticipate gaps totaling $72 billion for 2012, and 23 states predict shortfalls amounting to $64 billion for 2013.