Warren Buffett's Mr. Fix-It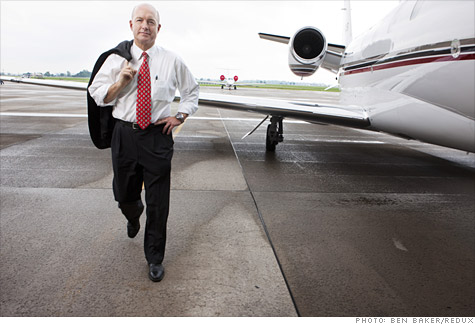 FORTUNE -- The day after Lehman collapsed in September 2008, David Sokol noticed that the stock of Constellation Energy, a Baltimore utility, was plummeting. He called his boss, Warren Buffett, and said, "I see an opportunity here." Buffett, who had noticed the same thing, replied after a brief discussion: "Let's go after it."
Constellation (CEG, Fortune 500) held vast amounts of energy futures contracts that had gone sour, and the company appeared to be on the verge of bankruptcy. Sokol, as chairman of the Berkshire subsidiary MidAmerican Energy Holdings, knew the utility industry and saw a chance to buy solid assets at a bargain price. The deal, however, had to be done within 48 hours or the company would have to file for bankruptcy.
Sokol phoned the office of Constellation CEO Mayo Shattuck III, who was in an emergency board meeting. When his assistant answered, Sokol told her he'd like to speak to him. The secretary replied that if she interrupted the meeting, she might lose her job. Sokol replied, "If you don't interrupt the meeting, you might lose your job."
Sokol boarded a Falcon 50EX and sped to Baltimore. He met with Shattuck and struck a deal that evening to buy the company for $4.7 billion, staving off bankruptcy.
Within weeks, before the acquisition was completed, Constellation's board received a competing bid from Électricité de France for about a 30% premium. The board liked the offer, and so did Sokol -- who walked away with a $1.2 billion breakup fee for Berkshire.
When investors think of Berkshire Hathaway (BRKA, Fortune 500), they of course think of Warren Buffett and his record as a hands-off, if highly attentive, CEO. He gives free rein to the heads of his large collection of companies, ranging from Geico to Dairy Queen to Benjamin Moore to the Buffalo News to NetJets. Yet even in Buffett's empire, sometimes a CEO blows it, and his business needs to be fixed or a deal needs to get done -- fast. When that happens, Buffett's go-to guy is David Sokol.
Of all Berkshire's lieutenants, Sokol, 53, is mentioned most often as Buffett's heir, although Sokol shrugs off such speculation. Buffett likes Sokol just where he is, getting deals done, boosting profits, and turning around ailing businesses. In the foreword to Sokol's book, Pleased but Not Satisfied, Buffett writes, "He brings the business equivalent of Ted Williams' .406 batting average to the field of business management."
Buffett first met Sokol in 1999 when Berkshire was buying MidAmerican, the Iowa utility. With longtime Buffett friend Walter Scott, Sokol had bought a small, $28-million-a-year geothermal business in 1991 and built it into that utility powerhouse. MidAmerican, headquartered in Des Moines, now represents an $11.4 billion slice of Berkshire's revenue (about 10%), and Sokol is its chairman. In 2007, Buffett asked Sokol to get Johns Manville, an underperforming roofing and insulation company, on track, and he did; he is now its chairman. In 2008, Charlie Munger, Buffett's vice chairman, asked Sokol to fly to China to conduct due diligence on BYD, a battery and electric car maker. Sokol liked what he saw, and Berkshire invested $230 million for 10% of the company. That stake is now worth around $1.5 billion. In April, when Buffett had concerns about a provision in the Senate financial regulation bill that would have required Berkshire and other companies to post billions of collateral on their existing derivatives, it was Sokol he sent to argue his case. Buffett's side of the argument won.
Last summer Buffett handed Sokol perhaps the biggest assignment of his career: turning around NetJets. The fractional-ownership jet company last year lost $711 million before taxes -- not the kind of performance that warms Buffett's heart. Today the company is profitable, and Fortune got a rare, exclusive view of how Sokol did it:
David Sokol: Assignment NetJets