GM to boost Chevy Volt production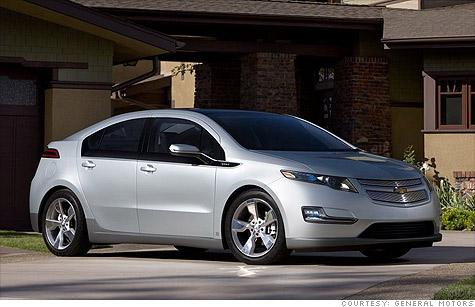 NEW YORK (CNNMoney.com) -- General Motors announced Friday that the automaker has raised its planned production of the Chevrolet Volt electric car to 45,000 in 2012.
Originally the automaker planned to produce 30,000 Volts in its second year of production.
The announcement coincided with a visit by President Barack Obama to the Detroit auto plant where early production of the car has already begun.
GM plans to begin selling the Volt by the end of this year. GM says it will limit sales to 10,000 units during 2011, the car's first full year of production.
The car will initially be available only in California, New York, Michigan, Connecticut, Texas, New Jersey and the Washington, D.C. area.
When fully charged, the Volt will be capable of traveling up to 40 miles on purely electric power using a lithium-ion battery pack. For driving beyond 40 miles, the Volt will have a four-cylinder gasoline engine that will generate electricity to power the wheels.
GM recently announced a planned base sticker price of $41,000 for the Volt. The car will also be available at a lease rate of $350 a month, however, which is the same rate that Nissan plans to charge for its Leaf electric car. The Leaf can travel up to 100 miles on a charge, but lacks the Volt's gasoline engine for extended driving.
GM says strong public interest in the vehicle lead it to increase production targets for the Volt.