Worst job on Earth: BP calling all applicants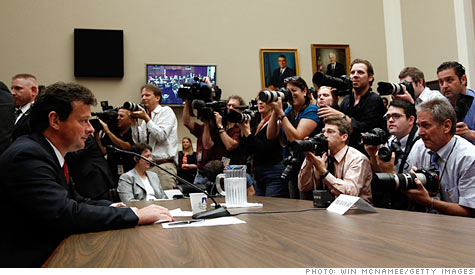 NEW YORK (CNNMoney.com) -- It could quite possibly be called the worst job on Earth -- and the position is open.
BP is looking to hire a new spokesperson to serve as the chief media contact for the oil giant's Gulf Coast clean-up efforts.
The job description? Essentially minimize the harm done to BP's reputation by overseeing company press releases, talking points and interviews with the media related to the oil spill that has plagued the Gulf Coast since April.
The spill has proven a public relations nightmare for the company, as the spreading oil's environmental damage flies in the face of the BP's previous efforts to paint itself under the green banner of "Beyond Petroleum."
BP's stock alone has plunged 37% since April 20, when the Deepwater Horizon rig exploded. And that hit is separate from the $32.2 billion in clean-up costs BP said it is charging on its latest quarterly results.
And aside from the disaster itself, gaffes like "I would like my life back," and "I think the environmental impact of this disaster is likely to be very, very modest," from outgoing BP Chief Executive Tony Hayward didn't exactly help the company's reputation -- or bottom line -- either.
The new public relations position could prove a bit easier now that BP has capped the leaking well and is reining in a new CEO, Bob Dudley -- who has, for the time being, avoided embarrassing sound bites unlike his predecessor.
Earlier Friday, Dudley told jittery Gulf of Mexico residents that the British corporation has a "long-term commitment" to help the region deal with the "catastrophe."
According to the job post, BP is looking for someone with a minimum of 5 years experience, but preferably more than 10, in dealing with the media. He or she should be a "team player" who "can align to disciplined messaging," the post said.
So who would sign up for such a job?
Public relations professionals who want a challenge and are prepared to put their personal life on hold for about a year, said Blake Lewis, owner of Dallas-based Lewis Public Relations, which offers crisis communications services and has clients in the energy industry.
"You certainly can't look at this assignment and say it doesn't have a lot of opportunity to it," Lewis said. "Being able to say that you've successfully guided the reformation of a global brand's reputation would be a major accomplishment."
The right candidate for the job also probably has few battle scars already, after having navigated a high profile crisis situation before, Lewis said.
"If you've addressed a crisis and not gotten bounced about a bit in the process, you probably weren't as close to crisis as you thought or you were incredibly lucky," Lewis said. "You want successful outcomes but also the scars to prove it."
Perhaps pros from the public relations teams at Goldman Sachs, Toyota and Tylenol should apply?
BP does not list a starting salary for the position.