Why a flounder gigger's suit against BP is one to watch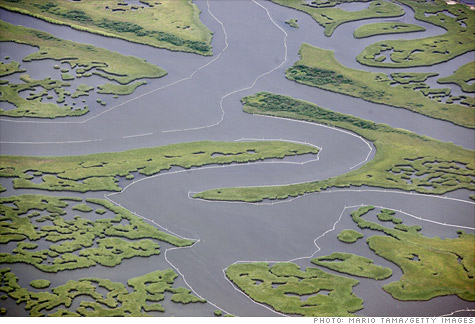 FORTUNE -- Although it's probably not BP's top priority at the moment, an ominous lawsuit was filed against it last month in state court in Mobile, Alabama, by a man named Obie F. Carlisle.
On May 29, Carlisle waded into the waters of Mobile Bay, near Fairhope and Bayou La Batre, Alabama, to engage in a popular recreational pastime called flounder gigging. That's a sport where you take a long pole with a tiny pitchfork-like attachment at the end of it -- the "gig" -- and stab a flounder as it lies in the sand in clear, shallow water. (Evidently the flounder hide there in order to surprise their own prey, shrimp and minnows.)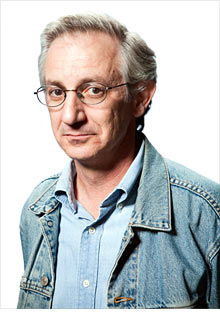 While gigging for three or four hours, Carlisle says, he was exposed to a pollutant in the waters. He says it was either oil that had spewed from BP's Macondo well after the Deepwater Horizon explosion on April 20, or it might have been the dispersant, Corexit, that BP (BP) used to try to dissipate that oil. His exposure occurred either by inhalation, ingestion, or skin contact -- the complaint doesn't specify. At the time, no signs warned that the waters were dangerous, he says, though a few days later warnings were issued.
Ever since that day, according to the suit, which was filed June 30, Carlisle "has experienced . . . painful rashes, nosebleeds, nasal blockages, shortness of breath as well as . . . emotional distress." The suit seeks compensatory and punitive damages against BP, its Macondo well investment partners Anadarko (APC, Fortune 500) and Mitsui Oil Exploration, Deepwater Horizon rig owner Transocean (RIG), cement contractor Halliburton (HAL, Fortune 500) Energy Services, blow-out preventer manufacturer Cameron International (CAM, Fortune 500), and three contractors that provided drilling supplies and services.
Plaintiffs attorneys with a history
Granted, one flounder gigger with a rash may not sound like a big-time legal problem for a company that had $246 billion in revenue last year. But here are a couple reasons to take Carlisle's case seriously. One is that he's represented by the Motley Rice law firm, which was founded by two of the most successful, most creative mass-tort plaintiffs lawyers that have ever lived. Trial lawyer Ron Motley and his wheeler-dealer partner Joe Rice pioneered, led, and, for a while, practically cornered the market on representing plaintiffs in asbestos litigation. They then went on to mastermind the assault upon the tobacco industry that culminated in the $200 billion multistate tobacco settlement of 1998, from which various plaintiffs lawyers walked away with about $13 billion in fees.
Before bringing Carlisle's suit, Motley Rice had already filed at least nine class actions in four states over the Gulf oil spill, seeking lost income for charter-boat operators, shrimpers, rental property owners, restaurants, bars, package stores -- you name it. A spokesperson for the firm said the attorney handling the case, Kevin Dean, was traveling and not available for comment. BP didn't immediately return a call seeking comment.
Reason two is that Carlisle's complaint reads like a blueprint for a new mass tort. It can easily be adapted to fit the health problems of a great many people who live near or visit the Gulf, ranging from very serious to extremely minor.
The complaint alleges, for instance, that exposure to crude oil "has been shown to cause . . . rashes, dizziness, headaches, nausea, lung, liver and kidney damage, infertility, immune system suppression, disruption of hormone levels, blood disorders, mutations, and cancer," not to mention "anxiety, post-traumatic stress disorder and depression."
Similarly, the dispersant Corexit, the law firm alleges, can cause "rashes, skin, nose and throat irritation, coughing, wheezing, nausea, diarrhea, vomiting, abdominal pain, headache, dizziness, liver damage, kidney damage, and cancer."
Now let me be clear. Carlisle says he was injured by oil or dispersants and I have no reason to doubt him. The challenge in mass torts is that once thousands of cases are filed, the defendant has little choice but to resolve cases en masse, and it becomes difficult to scrutinize each one very carefully. The wheat gets mixed with some chaff. As we've seen in the context of asbestos and silica litigation, sometimes the chaff runs amok.
To be sure, we're a long way from such a situation yet. BP has top-notch lawyers, too, and judges and jurors in the gulf will be well situated to weed out the plausible from the implausible. Still, when a company is already facing cleanup costs for maybe 100 million gallons of oil, plus natural resource restoration suits, plus lost income claims from businesses in at least four states, plus municipalities' claims for lost tax revenue, plus, in all likelihood, record-breaking state and federal fines and penalties, the tale of the flounder gigger has an unnerving, open-ended, where-are-we-headed ring to it.
I'm no stock analyst, but vis-à-vis BP shares, I'm not sure it's safe to go back into the water just yet.