States go deeper into debt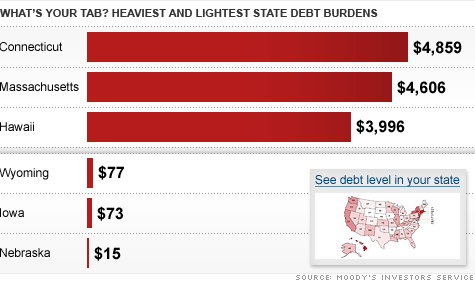 NEW YORK (CNNMoney.com) -- The states are broke, and like many consumers, they're borrowing big time to get out of their fiscal binds.
The amount of debt that states are carrying spiked 10.3% last year to $460 billion, according to Moody's Investors Service. The debt is paid for through taxes and fees, making residents ultimately responsible.
The median personal share of this burden jumped to $936, from $865 in 2008. (To see how much the tab is in your state, click here.)
And it's likely that states will turn to the bond markets even more this year as federal stimulus money dwindles, experts said. After all, officials face an additional $12 billion shortfall for the current fiscal year and a $72 billion gap for fiscal 2012, which starts next July 1.
Debt "is a tool to help bridge the gap between the downturn and when the economy starts to recover," said Robert Kurtter, a managing director at Moody's.
States are relying on the debt markets in a variety of ways. With less cash on hand, some state officials are borrowing more to fund capital projects. Other states are engaging in so-called deficit financing, where they issue bonds to cover their budget shortfalls or restructure their debts to lower their monthly payments.
The good news for states is that it's a good time to issue debt. Not only are interest rates are low, but the American Recovery and Reinvestment Act subsidizes interest payments on certain municipal bonds. This is a marked change from late 2008, when the municipal bond markets were effectively closed for many issuers.
To be sure, not every state is ratcheting up its borrowing. Many states have strict laws governing their debt issuance. Some places, such as Nebraska and Wyoming, have virtually no debt. Others have to turn to voters to approve bond proposals.
What the states are doing
Required to close a $684.3 million budget deficit for fiscal 2011, Connecticut is planning to borrow up to $956 million in coming months. (The state ended the fiscal year with a surplus so it likely won't need to take out as much debt.) This move comes after the state issued $916 million in bonds to cover a previous shortfall.
The plan prompted Fitch Ratings to downgrade the state's general obligation bond rating to AA, saying it reflects "the state's reliance on borrowing to address its ongoing fiscal challenges in the context of already high liabilities and large projected structural gaps."
Though Connecticut is still welcomed in the bond markets, state treasurer Denise Nappier warned that officials should not rely on loans as much in the future. The wealthy state already has the highest debt burden per capita at $4,859, according to Moody's.
"We must continue to manage our existing debt as aggressively as possible, and our governor and legislature must avoid additional borrowing to close budget gaps if the state is to avoid the very real prospect of having to pay more for the cost of money," Nappier said last month.
Illinois, meanwhile, is planning to turn to the debt markets to fund $3.7 billion in pension obligations in December -- if the state legislature approves. The state already sold $2.4 billion in pension notes in January. This is on top of $3.6 billion in planned or completed debt offerings this fiscal year.
"It frees up other funds that can be used for operations," said John Sinsheimer, Illinois' director of capital markets.
The Prairie State is in the midst of correcting years of overspending that has left the state in deep financial trouble. Gov. Pat Quinn recently chopped off $1.4 billion in spending before approving a $24.9 billion budget.
In California, the fiscal mess has forced officials to go to the bond markets to cover the cost of its capital improvement programs. The state has issued nearly $25 billion in bonds over the past year to fund infrastructure projects. Nearly $10 billion of this debt are Build America Bonds, which have 35% of their interest payments covered by the federal government.
Until the credit crunch in late 2008, California used to take loans from a state account to get a project up and running before turning to the bond market. It was a quick and easy way to get infrastructure improvements started, said Tom Dresslar, spokesman for California Treasurer Bill Lockyer.
"The state cannot afford to provide those loans anymore, which makes it more important for us to have regular access to the bond markets," said Dresslar.
We're not Greece
But despite the states taking on additional debt, they are in no danger of becoming the next Greece or defaulting on their debt, no matter how poor their fiscal condition, experts said.
The median state debt to gross state product is about 2%, a fraction of the debt burden of Greece, which spooked the world this spring by nearly defaulting, said Judy Wesalo Temel, director of credit research at Samson Capital Advisors.
"No state is in danger of default," she said.
Going forward, more states may have to rely even more on the bond markets as they continue to struggle with weak revenues.
"The stimulus package has really offset what might have been significantly more debt issuance," said Robin Prunty, managing director for public finance at Standard & Poors. But "stimulus is phasing out before the revenue recovery is taking hold."
Are you a state or city worker that has been furloughed over the past year? Is this causing you financial hardship? If so, send an email to realstories@cnnmoney.com and you could be profiled in an upcoming piece at CNNMoney.com. For the CNNMoney.com Comment Policy, click here.