Life on furlough: Working 12 months for 11 months pay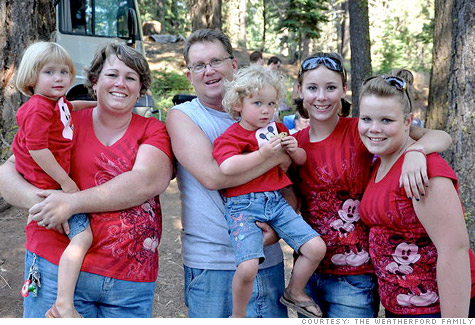 NEW YORK (CNNMoney.com) -- More than a half million government workers nationwide are grappling with their second year of forced furloughs.
Far from being just extra vacation time, it's meant financial struggle for many employees. At a minimum, they are cutting back. At worst, they are losing their homes and declaring bankruptcy.
"We've never seen this scale and magnitude. The hardships are incredible," said Steven Kreisberg, director of collective bargaining for the American Federation of State, County and Municipal Employees, which has 1.6 million members in 46 states.
Some 22 states had furloughs in the past year, and at least 13 of them plan to continue them into 2011, according to a study by the governors and state budget officers associations. Meanwhile, 19% of cities have instituted furloughs, according to the National League of Cities.
While some places ask workers to give up just a few days, elsewhere it can be much worse. California, for example, requires employees to take off three unpaid days a month, while Hawaii is mandates 18 days a year through mid-2011.
For the states, this effort is racking up big savings. That's helping to close the enormous budget gaps many states face. In California, the 14% pay cut has saved the state $2.8 billion in its first 17 months and $147.2 million per month now.
But for workers, the furloughs can be equivalent to losing as much as a month's pay each year.
For Dwight Weatherford, it has meant filing for bankruptcy.
A correctional officer in Susanville, Calif., he has seen more than $1,200 of his monthly pay disappear. He and his wife have worried at times that they weren't going to be able to feed their four daughters or heat their rural northern California home.
Though he tried to work out payment plans with creditors, he filed for bankruptcy this year.
"It has caused a lot of pressure on us," said Weatherford. "We're under amazing stress financially."
In Arizona, Ret Ahimsa also had to file for bankruptcy after being asked to take five unpaid days last fiscal year and another five this year and next. She's lost roughly $150 a month from her paycheck.
Times were already tight, and the loss of income was enough to force her into bankruptcy, which cost her her home and her car.
She now lives with a friend in Chandler, Ariz., and has a 90-minute commute by bus to her job as a social services caseworker. That's a big change from her previous three-minute drive from her Phoenix home.
Ahimsa, who has a grown daughter, said she doesn't mind sacrificing for the state, but feels employees are being asked to give up too much. She thinks bankers should have to forfeit some of their pay and bonuses, too.
"I'm just very frustrated with who is being asked to take financial hits," Ahimsa said.
Even those who consider themselves lucky in comparison have had to cut back.
Bob McLinn, a Wisconsin correctional officer who has worked for the state for 27 years, has lost about 3.6% of his paycheck to furlough days.
As a result, he and his wife have reduced their spending. Instead of going on a week's vacation, they just escape for a few days. They don't go out to eat as much. And they put off replacing their 2003 Dodge Caravan that has 135,000 miles.
"We think more about what we are buying," said McLinn, who lives in Waupun.
Two of his five grown children are also caught up in Wisconsin's furloughs. Since they each have four children, they are feeling a greater squeeze.
"When you are making $15 an hour and you have $100 taken out of your paycheck, you find things are a lot harder," he said. "They have to make sure they can pay their mortgages."
More states may end up instituting furloughs this year if the economic picture remains grim. But they won't go on forever, said Richard Harris, director of the Senator Walter Rand Institute for Public Affairs at Rutgers University-Camden campus.
"You can't furlough people for years," he said.