A new BlackBerry: RIM's last shot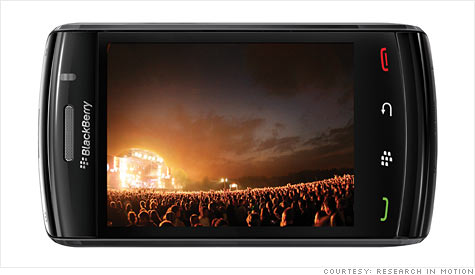 NEW YORK (CNNMoney.com) -- Momentum in the smartphone market has shifted in favor of Apple and Google, but BlackBerry maker Research In Motion hopes it can still reverse course before it's too late.
RIM (RIMM) is widely expected to unveil a new touch-screen smartphone with a pull-out keyboard at a corporate event on Tuesday. The device is likely the much-hyped AT&T (T, Fortune 500) BlackBerry Slider 9800, leaked images of which have flooded the Internet over the past several weeks.
RIM might also unveil its new smartphone operating system, BlackBerry OS 6, which will give RIM devices a Web browser and a home screen that mirrors those of the iPhone and Google's Android-based smartphones.
At first glance, it seems that RIM doesn't need a shot in the arm from a sexy new device and operating system. BlackBerry phones have a commanding lead in the smartphone market, making up 41.7% of smartphone subscriptions, according to comScore. That's nearly double the market share of the nearest competitor, Apple (AAPL, Fortune 500), and more than triple the share of smartphones running operating systems made by Microsoft (MSFT, Fortune 500) and Google (GOOG, Fortune 500).
But BlackBerry's growth has stalled in recent quarters. Apple and Google have bested RIM's devices in terms of ease of use, availability of third-party applications, touch-screen technology and Web browsing capabilities -- to name just a few critical smartphone components. IPhones and Android phones are simply cooler than the assortment of BlackBerry phones.
Plus, newer iPhones and Android phones offer secure Microsoft Exchange Server e-mail and calendar support -- the hallmark of RIM's devices.
As a result, RIM needs a concerted effort to catch up with its rivals.
"The company has done a good job on the numbers, but numbers can be deceiving; you have to look at the momentum, and that hasn't been positive for RIM," said Al Hilwa, applications development software program director at IDC. "The challenge now is to keep up with a much more competitive environment. RIM has to move its center of gravity to the consumer space, where all the excitement is."
Some analysts doubt RIM's ability to pull off that change. The company has made its mark in the corporate world because of its top-notch e-mail security (a feature so good that some countries are banning BlackBerry communications thanks to their inability to spy on users' conversations). But beyond e-mail, the phones aren't known for much else.
"In terms of innovation, RIM is a minor player," said Jagdish Rebello, principal analyst of communication systems at iSuppli. "It's coming from a different background than Apple and Google -- RIM is leveraging its strengths in the enterprise, but it's hard to be a 'me too' player in this market."
Don't leave BlackBerry for dead
Still, the good news for RIM is that more than half of its business comes from the slow-to-change enterprise space.
Anyone reading this story at work on a Windows XP computer knows that corporate IT departments are notoriously slow to adapt to new technologies. Though some are starting to dabble in iPhones and Android phones, BlackBerry remains the corporate smartphone brand, giving RIM wiggle room to make the changes it needs to make to stay competitive.
"RIM has some time to work this problem out, and it won't precipitously lose share in the meantime," Hilwa said. "But the longer it takes to create a categorical success in the consumer space, the worse off it will be in the long run, because the smartphone market is only getting more competitive."
Creating an iPhone and Android competitor may not be as hard as it would appear. BlackBerry made significant inroads with consumers in past years with low-priced models like the Pearl and Curve. For many users who text a lot -- especially teens -- the BlackBerry keyboard is a hit, as is the BlackBerry Messaging service.
There are some big hurdles for RIM to clear, but a strong brand still counts for a lot in the consumer market. The company has been making solid smartphones a long a lot longer than Apple or Google, and some think a new, winning device from RIM will get consumers to flock back to BlackBerry.
"Everyone presumes them dead, but quarter after quarter, it shows amazing [financial] growth," said Will Stofega, program director of mobile device technology and trends at IDC. "That speaks a lot to the BlackBerry's brand recognition and the utility of the device itself. At end of the day, RIM will be able to market to consumers without much effort."