Is Berkshire Hathaway's stock overvalued?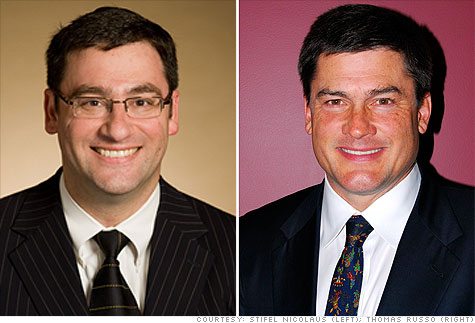 FORTUNE -- Warren Buffett likes to say his ideal investment horizon is forever. And that's the timeline of many investors in his Berkshire Hathaway conglomerate. Most buy Berkshire shares, then hold and hold and hold.
So what do investors do when an analyst says Berkshire (BRKA, Fortune 500) stock is poised to fall? In July, Meyer Shields of Stifel Nicolaus downgraded Berkshire shares to a "sell" rating, the first time a Wall Street analyst has recommended selling the stock since 2004. Not even the mighty Buffett can escape a lousy economy, according to Shields.
But Thomas Russo, who manages over $3 billion in assets (including Berkshire shares) as a partner at Gardner Russo & Gardner, says Buffett's roster of companies is ready to take charge when the economy bounces back.
We spoke with both analysts and got their takes.
The bear: Meyer Shields, Stifel Nicholas
"Our sell case is predicated on expectations of a very weak U.S. economy in the second half of 2010. We've seen employment dip much further than it had in previous recessions. There's not much sign of a recovery yet. That's going to ripple through just about all of Berkshire's non-insurance segments. Whether that's selling candy or jewelry, or its Marmon industrial operations. Our sum of the parts valuation produces a target price for the stock of $104,000.
"When insurance companies have massive equity portfolios like Berkshire does, book value is a better predictor of fair value than earnings. Declining stock markets may drive down Berkshire's book value by $2.8 billion in the second quarter.
"Berkshire also sold a number of stock index put options on the S&P 500, Japan's Nikkei, and Euro Stoxx 50. They don't really expire before 2018, so we think it's very unlikely that Berkshire will have to make the payments. But in declining markets, when those are marked to market, book value will fall. We estimate it represents an $800 million hit in the second quarter.
"We only cover Berkshire's A shares. But I'd be surprised if you see any disparity in the performance between A and B shares because any material change in performance would be arbitraged away pretty quickly.
"It think the benefit of the class B share (BRKB) split was that, first of all, you saw very strong share price performance after the announcement was made. That meant to the extent that Berkshire paid for Burlington Northern with stock instead of cash, it took fewer shares.
"But going forward, now that Berkshire has an investor base that's much more institutional than it had been in the past, and because so many funds are now forced to pay attention to Berkshire because its in the S&P 500, I think what we're going to see a more "normal stock." The influence of Berkshire holders that will hold it no matter what will wane a little bit. So that translates into higher beta (or volatility), and higher beta almost always translates into a lower share price valuation."
The Bull: Thomas Russo, Gardner Russo & Gardner
"Warren Buffett is not a slave to reported profits. That's Berkshire's greatest strength. He received $4.9 billion in premiums years ago to insure $37 billion [in those stock-index put options]. Nobody else would have risked the potential mark-to-market hits to reported earnings.
"By the time he actually settles up, Berkshire should have compounded that pool of money to over $15 billion. Berkshire's willingness to disregard reported profits frees it to be more productive in building shareholder wealth than companies that promise smooth and steady results.
"A weak macro environment has already occurred for Berkshire. I look at this as a therapeutic time during which Berkshire's companies, armed with an acquisition war chest, can make strategic investments and build their business.
"Shaw Industries is a good example. The Berkshire business, a carpet and flooring company, just acquired a leading synthetic turf company that has made fields for the New York Jets and San Francisco 49ers. By contrast, its public company competitors compromise future prospects by short-term cuts designed to protect reported profits. Berkshire's industrial portfolio companies, much like Shaw Industries, should be competitively advantaged when the economy comes back.
"In addition, the most amazing thing that's happened recently, as a result of the Burlington Northern acquisition, has been this evolution of Berkshire shareholdings. Berkshire always prided itself on having an enlightened share class. And that meant Warren, for instance, didn't split the shares just to obtain new shareholders otherwise "priced out" of ownership of Berkshire A shares.
"Now today you fast-forward. What's happened? Berkshire has realized that there is a growing pool of equities in the U.S. that are legally by contract unable to own Berkshire. Those are index funds. So, that could be 8% of equities in North America are indexed to the S&P 500 (SPX) -- maybe as much as $2 trillion of equity money could not own Berkshire.
"The virtue of Berkshire Hathaway's longstanding "partner" shareholder was that they were informed, educated, and like-minded, meaning that they were not selling frequently. The same outcome happens within the index world. Those Berkshire shares are permanently held because of Berkshire's market cap within the index. The manager of the Vanguard S&P 500 Index Fund cannot now wake up some morning and say, 'I think Warren's lost his way. Let me switch into Chubb.' He doesn't have that option.
"Berkshire's 20% stock rise this year comes after a 0% gain in 2009, when the S&P 500 rose 26%. 2010 is a make-back period for Berkshire relative to world indices. I like having such counterbalance."