Has Intel finally met its match?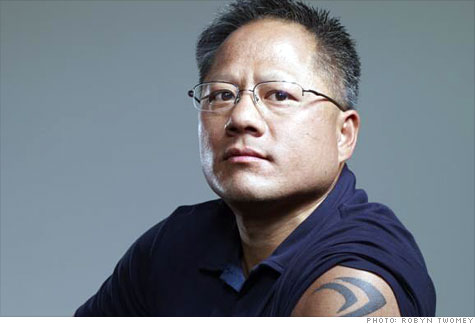 FORTUNE -- When Jen-Hsun Huang (pronounced Jenson Wong) was 10 years old, his Taiwanese parents sent him to a boarding school in rural Kentucky. It turned out to be a reform school, where Huang was the youngest kid, and he and his brother the only Chinese. "I got beat up now and then," he says. "But I learned how to survive."
Now Huang, the co-founder and CEO of graphics chipmaker Nvidia, is facing down one of the tech world's most notorious tough guys: He claims Intel breached its contract with Nvidia by locking it out of the market for so-called chipsets that are compatible with Intel's newest processors. Now, in a lawsuit, Huang wants Intel stripped of what it got out of that contract -- access to Nvidia's patent portfolio relating to graphics technologies. Huang believes that in today's world of mobile, visually rich computing, virtually every chip in Intel's pipeline will eventually need inventions covered by his portfolio.
To Huang, age 47, this is no ordinary contract dispute; it's an epic battle over the soul of tomorrow's PCs, tablets, and smartphones. "Computing is more about graphics than ever," he says. "Look at the iPad. Look at the iPhone. It's all about graphics."
Just a few years ago Nvidia (NVDA) catered to a niche market of videogame fanatics who were willing to pay extra for extraordinary graphics. Intel (INTC, Fortune 500), meanwhile, catered to everyone with a PC; its central processing units (CPUs) act as the brains of those devices.
But the "parallel" computing approach used in graphics chips is more efficient for many increasingly vital computing functions, like running high-definition videos and editing 3-D graphics, and also for performing some functions once handled by CPUs, such as sophisticated mathematical modeling tasks. With Nvidia's graphics chips encroaching on territory dominated by Intel, the companies have been on a collision course.
Intel, for its part, would like to integrate increasingly sophisticated graphics functions into its CPUs. That way Intel would push Nvidia out of mainstream computing and back into its gaming niche. Huang's having none of it, though. "We're better positioned for the future than they are," Huang insists. Intel declined to comment for this story.
The showdown between the companies has not only led to the contract dispute but also triggered allegations in a U.S. Federal Trade Commission suit against Intel -- which was settled Wednesday. Regardless of the outcome, Huang says he'll take his contract case to trial rather than quietly settle the way other Intel rivals have. Indeed, Huang seems to relish his role as would-be Intel scourge as he readies for that trial, set to start in Delaware Chancery Court in December. "I am expecting to testify," he says, "and I'm looking forward to it."
Despite his rude introduction to America, Huang has thrived. At 15, he was a nationally ranked Ping-Pong player. At 21, he designed microprocessors for AMD (AMD, Fortune 500) while pursuing his master's at Stanford. On his 30th birthday he co-founded a startup dedicated to the notion that graphics chips could transform the PC from a glorified typewriter into a consumer entertainment device.
He was right. In July 2001, Nvidia's annualized revenue reached $1 billion, making it one of the fastest-growing tech companies ever.
Intel entered the graphics market in 1999. It bundled its dominant CPU with a chipset that had basic graphics functionality integrated into it. (A chipset links the CPU to other key computer components, such as the graphics chip.)
In that era, if consumers wanted exceptional graphics, they would typically buy a PC that, although already equipped with an integrated graphics chip, would be turbocharged with a standalone graphics processing unit, or GPU, made by Nvidia or ATI Technology. Though the setup was redundant and expensive, it was worth it to some consumers -- then mainly gamers.
By 2004, Intel sought a license to Nvidia's patent portfolio to raise the level of its graphics game.
Nvidia, in turn, wanted a chance to build chipsets with built-in graphics for Intel CPUs, rather than being relegated to its niche market for discrete GPUs. To do so, Nvidia needed a license to access an Intel proprietary connection, or "bus." (Discrete GPUs don't need a license, since they plug into a nonproprietary bus.) With that, Nvidia could provide graphics for smaller machines, where there was no space for a discrete graphics unit, and it could strut its stuff to a broader audience.
In November 2004, Intel licensed Nvidia to build chipsets for its CPUs, while Nvidia licensed Intel its patents. But the relationship was contentious from the start.
According to the FTC suit, Intel stifled chipset competition from Nvidia through a variety of illegal tactics, including predatory pricing. According to Nvidia, for instance, Intel offered its CPU bundled with its chipset for less than the cost of its CPU alone. When computer makers started taking Intel's twofer but then substituting Nvidia's chipset, Intel made the discount contingent on the computer actually shipping with Intel's chipset, Nvidia claims. (Intel has previously denied this allegation.)
Finally, in 2007, Intel slammed the door on Nvidia altogether, Huang claims. It told Huang and his customers that Nvidia's license wouldn't cover Intel's then next-generation CPU, called Nehalem, because of certain design changes. Nvidia claimed Nehalem was covered. In February 2009, Intel sued for a declaratory judgment, and Nvidia countersued.
Once aware of Intel's position, no computer maker would risk buying Nvidia chipsets, Huang maintains. He stopped vying for new chipset business in late 2009. (Intel maintains Nvidia pulled out because it recognized that chipsets were becoming obsolete.) Huang now wants Intel stripped of its license to Nvidia's portfolio of fundamental patents on graphics and parallel computing technologies -- the case that goes to trial in December.
In the tech world, many disapprove of suits between competitors, regarding them as the last recourse for those who have lost on the field of competition. But Nvidia's superiority to Intel in graphics is not really in dispute. The problem is that in the future there's going to be only one chip in most machines, and it's going to perform both CPU and GPU functions. Huang thinks Intel needs Nvidia's patents to make that chip, and -- though he never spells it out -- it's apparent that Nvidia would love a license to Intel's x86 architecture, enabling it to make a competitor chip that can run Windows operating systems. In other words, Huang wants to play Let's Make a Deal. But first he needs to persuade a Delaware judge that Intel breached the 2004 deal -- and to give him back his bargaining chips.