Wall Street: New beginnings, same risk-taking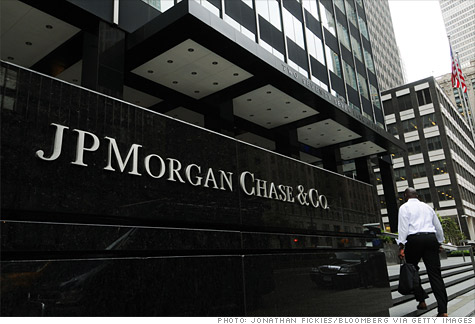 FORTUNE -- That was fast, even by Wall Street standards. Just a year after joining JPMorgan Chase from Merrill Lynch, star coal trader (yes, there is such a thing!) Chan Bhima is exiting the House of Dimon in disgrace. The man reportedly lost $130 million on a wrong-way bet on European coal prices in the second quarter.
Call it progress that a Wall Street firm has actually turfed someone for single-handedly losing more than $100 million.
Back in July 2009, the bank saw Bhima's hiring as "an important step toward the expansion of our global coal footprint." Maybe he was star-crossed from the get-go, considering that pretty much nobody talks about expanding their carbon footprint anymore. It's just gone out of style in these eco-conscious times.
Like so many other big trades gone bad, Bhima was up (by some $50 million) before he was down. He'd apparently made money in April before losing it all and more by mid-June. And he surely had the support of his superiors: JPMorgan (JPM, Fortune 500) has been ramping up its commodities business in recent years, both via Bear Stearns and this year's purchase of RBS Sempra.
Earlier this week, we learned that the company was cutting up to 50 people in the commodities unit, at least partly due to Bhima's bad trade. Commodities chief Blythe Masters reportedly admitted on an internal voicemail that the trade had left the bank "overexposed" to coal, an anomalous event at a company renowned for its obsession with keeping such exposures in check.
"We made a bit of a rookie error," she said, according to Bloomberg. Which seems like dissembling. We'd be more inclined to call it an error, pure and simple.
One large focus of financial reform in this country has been finding a way to put an end to deposit banks making large speculative bets with shareholder (and really, depositor) money. There's an argument to be made that a $130 million loss in a company with $2 trillion in assets is relatively inconsequential. The company's investment bank has $40 billion in capital allocated to the business. Even in that light, $130 million is small beans. (And it bears noting that those 50 layoffs come in the context of the company hiring some 3,000 people in the last six months. JPMorgan's commodities unit may be sucking wind, but the rest of the firm clearly is not.)
Risk with a wink and a nod
Indeed, equity analysts covering the company could barely bring themselves to mention the loss, and a search of their analysis of the second quarter shows nary a mention of the trade. The likes of Citi's Keith Horowitz paid a mere sideways glance to "press reports" about "soured coal trades."
There's nothing wrong with speculation; it's what makes the wheels of capitalism go round. But didn't we come to some agreement that it would be best if the same institutions that enjoy federal backing and low-cost borrowing eschewed such outright gambling? The JPMorgan folks will likely tell you that they took on the coal position in order to help facilitate client trades. And you'd have to take their word for that. Call the firm and ask about the whole imbroglio, as we did, and they will decline comment.
There's no need to sympathize with Bhima's sudden loss of employment. He'll have a new job, with new wagering capabilities, soon enough. Wall Street may talk a big game about risk controls, but this kind of thing is still handled with a wink and a nod. Make your big bets when you can, and if you win, you will be handsomely rewarded. If you lose, there will be some public Harakiri and then you've got to go find yourself another gig.
But let's be clear about this -- this kind of thing happens every day on Wall Street, it's just that we don't hear about the losses that often. What's more, JPMorgan Chase -- which just reported its best quarter in history -- clearly has had more wins than losses in its trading book of late.
The word is that a disenchanted former JPMorgan trader who is now at Bank of America (BAC, Fortune 500) tattled about the loss to the Wall Street Journal. You can bet that's one guy who won't be getting rehired at JPMorgan when he blows a big bet for BofA.