July jobs report: Economy still losing jobs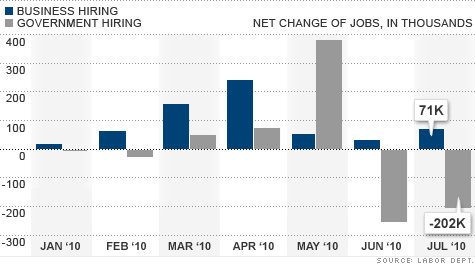 NEW YORK (CNNMoney.com) -- For the second month in a row, the U.S. economy shed jobs as the government continued to unload census workers, offsetting disappointing gains in private business hiring.
The Labor Department on Friday reported a net loss of 131,000 jobs in July, an improvement from the revised loss of 221,000 jobs in June.
The loss was due mostly to the end of 143,000 temporary census jobs in the month, but hiring by businesses was also weak, as those employers added only 71,000 jobs in July.
"The job market has lost steam and remains lethargic," said Sung Won Sohn, economics professor at Cal State University Channel Islands.
Businesses have now added jobs in every month so far this year, a total of 630,000 positions. But that works out to an anemic 90,000 a month. There needs to be an overall gain of about 150,000 jobs per month just to keep pace with population growth.
And private sector job growth seems to be losing ground. The modest gain of 71,000 jobs in business hiring was up from even weaker revised readings for May and June, but was still well below the nearly 200,000 monthly gains in March and April, when the labor market appeared set to turn the corner.
"The private sector is just not strong enough," said Tig Gilliam, CEO of Adecco Group North America, a unit of the world's largest employment staffing firm. "Companies are still cautious on the hiring front. They're taking a long time to make decisions. All of that suggests continued uncertainty and slow improvement."

The overall number was worse than the loss of 87,000 jobs that economists surveyed by Briefing.com had predicted.
More pain ahead
The job losses from census jobs ending are likely to abate in the coming months. There are only 196,000 temporary census workers still on the job and they'll be phased out mostly over the next two months.
But the outlook for private sector hiring remains weak. A restocking in inventories that helped lift hiring earlier this year has mostly come to an end and retailers are likely to keep shelves and staff lean going into an uncertain holiday shopping period.
Temporary workers, often taken as a leading indicator of future hiring by businesses who use them ahead of expanding their permanent staff, has been trending down for the last nine months and fell to a loss of 5,600 jobs this month, the first decline in that reading since September.

Public sector job losses weren't limited to temporary jobs, as government jobs outside of census fell by 59,000 in the month, most being cut from state and local governments facing budget problems.
The Obama administration said the loss of state and local government jobs, and the weak private sector hiring, show that more needs to be done.
"We have made substantial progress from the days when employment was declining by 750,000 a month," said a statement from Council of Economic Advisers Chair Christina Romer. "But, today's employment report emphasizes just how important the additional jobs measures before Congress are."
But Republicans claim the weak employment report showed that the economic policies of the Obama administration have failed.
"For all of the effort being expended to convince Americans that their policies have 'funded' or 'created and saved' new jobs, the sobering reality is 18 months after the stimulus was signed into law, our economy is still hemorrhaging jobs," said Rep. Darrell Issa, R-Calif.
Unemployment persists
The unemployment rate remained unchanged at 9.5% in June. Economists had expected the jobless rate to edge up to 9.6%. But that was mostly because of 381,000 workers who stopped looking for work in recent weeks, and were therefore no longer counted as part of the labor force.
That jump in discouraged workers may have been partly due to the loss of extended unemployment benefits for many jobless during the month. Without the incentive of having to look for work to collect benefits, many workers simply gave up looking.
The percentage of the population with jobs fell for the third straight month to 58.4% and is now approaching the 26-year low in that reading reached in December.
There was some good news buried in the report, at least for those with jobs. The average hourly work week increased 0.1 hours to 33.5, suggesting that workers who had their hours reduced were being called back to work full time. The number of part-time workers who would prefer to work full time fell by 98,000 to 8.5 million.