Shopping used private equity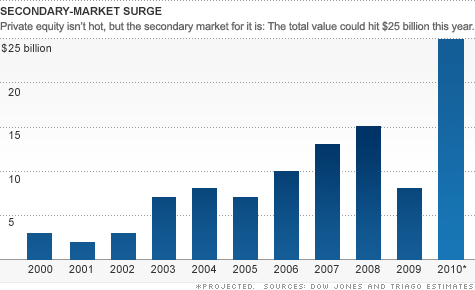 FORTUNE -- Each day in Paris, Antoine Dréan dines on roasted salmon at his table at power-lunch enclave Hôtel Costes. He's earned his seat there by running Triago, one of the hottest firms in one of the hottest fields in private equity: helping pension funds and endowments sell their unwanted positions on the secondary market.
For 2010, secondary sales are on track to reach as much as $25 billion, triple those of 2009 and almost 70% higher than the previous peak in 2008. Triago, which Dréan, 46, founded in 1992, will handle around 20% of that. It's the second-largest global broker behind Cogent Partners of Texas.
Most people are familiar with the "primary" method of raising private equity money by floating new funds. Triago does this too, gathering around $2 billion a year for such firms as W.L. Ross and Cevian Capital of Sweden. But it's the secondary business that is booming, in part because of delayed demand. Funds normally buy and sell positions as strategies change, lowering exposure, say, to Europe and boosting it in Brazil. "But in late 2008 and 2009," Dréan says, "buyers were offering 20¢ on the dollar, and sellers wouldn't sell at those prices."
Now, private equity prices have dropped far less than most investments, as their cash flows, and hence their valuations, are more stable than many alternatives. This means that institutions may be holding relatively too much private equity capital. That's where Triago -- which always represents the seller -- comes in.
Triago's innovation is to sell not only to the specialists -- bargain hunters such as Coller Capital of Britain, HarbourVest of the U.S., and French insurer Axa, which is purchasing a $1.9 billion portfolio from Bank of America -- but also to the same pension funds and insurance companies that it raises money from on the other side, known as "tourists." Those who have either announced they're in the market or recently made big purchases include the likes of Yale University and Calpers. Unable to get into these oversubscribed positions before, they now see an opportunity.
Dréan estimates that the "tourists" as a whole have some $50 billion in capital ready to invest. If he's right, the superstars of private equity will be crowding his table at Hôtel Costes.