Honda recalls 383,000 cars for rollaway danger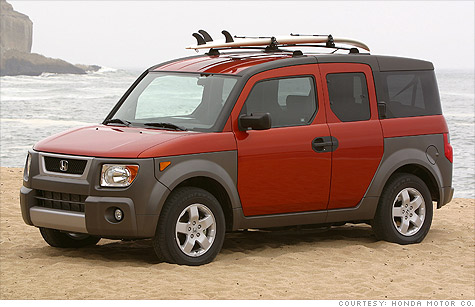 NEW YORK (CNNMoney.com) -- Honda on Monday announced the recall of 383,000 older-model Accord, Civic and Element vehicles in the U.S. for problems related to the ignition mechanism that could allow the cars to roll away.
The automaker said in a statement that if the ignition interlock mechanism becomes worn out or damaged, it may become possible for the ignition key to be removed while the vehicle is not in park. That could allow the vehicle to unexpectedly roll away and possibly crash.
Honda said it has received several complaints about the problem and that a "small number" of accidents have occurred as a result, including one involving a minor injury.
The recall includes 197,000 Accord and 117,000 Civic sedans from the 2003 model year and about 69,000 Element vehicles from the 2003 and 2004 model years.
The National Highway Traffic Safety Administration, or NHTSA, said it has received 16 complaints alleging failure of the ignition interlock mechanism on the recently recalled vehicles. The agency said 11 of those complaints involved a rollaway crash, including one in which the owner claimed that she was nearly run over by her car when she tried to stop it from rolling.
The recall announced Monday was not the first time Honda has recalled vehicles for this problem. In 2003, the automaker recalled nearly 564,000 vehicles for faulty ignition mechanisms. Two years later, Honda recalled another 487,000 vehicles for the same issue.
NHTSA said it has upgraded its investigation into the potential defect to determine how widespread the problem is.