Walt Disney profit soars 40%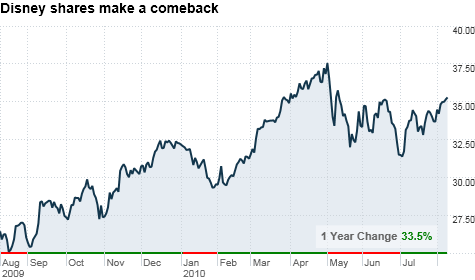 NEW YORK (CNNMoney.com) -- Walt Disney Co. posted fiscal third-quarter results Tuesday that topped Wall Street's expectations, led by rebounding sales at its television networks and movie studio divisions.
The Burbank, Calif.-based media giant said quarterly net income rose to $1.3 billion, or 67 cents per share, up 40% from a year earlier. Analysts polled by Thomson Reuters expected earnings of 58 cents a share.
Sales rose 16% to $10 billion in the third quarter, beating the $9.4 billion in revenue that analysts had forecast.
"We're very pleased with our strong third quarter, in which we grew revenues substantially and improved profitability across the majority of our businesses," chief executive Robert Iger said in a prepared statement.
Disney, which owns ABC and ESPN, reported a 19% jump in sales at its media networks unit, driven by increased advertising revenue and growth at cable network ESPN.
"The big upside surprise was driven by recognizing more deferred revenue from ESPN, but ESPN's business was better than expected even backing that out," said Alan Gould, an analyst at Soleil-Gould Research Corp. "Over 50% of Disney's value is their cable network business and the majority of that is ESPN, so the single most important variable to look for is what the underlying economics of ESPN are."
Advertising revenue at ESPN jumped 31% in the quarter, boosted by major sporting events including the the World Cup. But even without these events, Iger said the cable network has continued to improve.
"While the World Cup was a sensational hit for ESPN in the quarter, its impact on the bottom line didn't necessarily drive the quarter," Iger said in an interview with CNNMoney's Poppy Harlow. "ESPN's success is basically from a collection of programs and its strength is evidenced quarter to quarter, year to year."
Sales at Disney's movie studios climbed 30%, thanks to the success of blockbuster hits including Iron Man 2, Alice in Wonderland, and Toy Story 3.
The theme parks unit, the company's second-biggest division, didn't fare as well. Sales at Disney's parks and resorts rose a modest 3%, while operating income fell 8% as attendance and consumer spending remained sluggish in the quarter.
The division also struggled due to labor, pension, and Medicare costs and a calendar shift that resulted in one less Easter holiday week in the quarter, according to Jay Rasulo, Disney's chief financial officer, on an earnings call with investors.
When asked about overall economic conditions, Iger told CNNMoney's Harlow that it's a "complicated time."
"This is a difficult economy...there are some real challenges out there in a country that's fairly expensive to run and we've got to do a better job reducing expenses and figure out how to improve revenue," he said.
But Disney's recent success may indicate a positive trend for the U.S. economy.
"I look at things from a Disney perspective, and Disney's ability to operate in this country and the world is demonstrable," he added.
Shares of Disney (DIS, Fortune 500) rose more than 1% in after-hours trading after gaining 0.4% to close at $35.29 a share in regular trading.
Disney joins other big media rivals, including CBS (CBS, Fortune 500), News Corp (NWS, Fortune 500). and Time Warner (TWX, Fortune 500), which is the parent of CNNMoney.com, in reporting results that were better than what analysts had expected.