Surgery and sightseeing on your boss' dime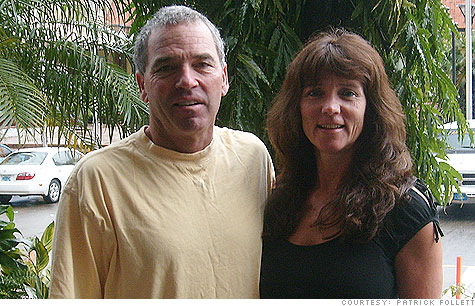 NEW YORK (CNNMoney.com) -- Tina Follett and her husband Patrick are in Panama on a two-week all-expenses paid trip. But Tina isn't on vacation. She's there to get surgery.
The Folletts are among a growing number of Americans whose company health plans now include a medical travel option.
Tina Follett, 50, just underwent a complete hysterectomy at the Punta Pacifica hospital in Panama City.
"It's been a phenomenal experience, almost like a hotel, and it has cost us absolutely nothing," she said.
Patrick Follett, a manager with Calif.-based Bear Mountain Resort, said his company introduced medical travel about two year ago.
The same surgery done in the U.S. could have cost the company about $50,000, with $10,000 out of pocket for the Folletts. In Panama, that procedure cost half of that.
"We did have an appointment for surgery in the states. But we took a hard look at the travel option and it was too attractive for us to turn down," he said
All paid by the company:
Free airfare for both
Full medical coverage
Free hotel
Complimentary concierge
Car service
Interpreter
Sight seeing
$120 per diem for two weeks
Desperate to bring down health care costs, some companies will even pay workers a percentage of savings from overseas treatment and waive co-pays and deductibles.
Despite these perks, medical travel has risks. The biggest being: How do malpractice and liability apply to you abroad?
"Travel surgeries" catching on. Post health reform, experts say travel surgery has taken hold, especially among smaller companies struggling to implement mandated provisions in the law.
Companies are urgently looking for ways to trim health plan expenses, said Dr. Arnold Milstein, chief physician with benefits consulting firm Mercer's Health & Benefits Group.
He says they recognize that travel surgery is an opportunity to save money on expensive procedures like knee and hip replacements, hysterectomies and open heart surgeries.
Sending employees to India can lower surgical costs on average by 80%. "In the U.K., prices are about 25% less even after you take into account airfare and hotel ," Milstein said.
"Companies are saying, 'why not provide incentives to workers to go abroad for elective surgeries?'"
California-based medical travel facilitator PlanetHospital has specialized in overseas health care since 2002.
But it's only over the last year that it has seen a jump in interest from companies, said co-founder and CEO Rudy Rupak.
In 2009, PlanetHospital added eight self-funded companies as clients. Among them: Bear Mountain Resorts and North Pacific Seafoods.
In 2011, Rupak expects that number to hit 50. His most recent client is Wells Fargo Insurance Services.
Of the 21 countries in its network, Rupak's top recommendations include Australia, Singapore, South Korea, Panama, Costa Rica and Mexico.
Besides having hospitals with international accreditation, Rupak said these countries also have a less onerous visa process with minimum savings to employers of at least 50%.
"After the employee picks the country, we send a list of surgeons. You choose the surgeon based on background, education and patient testimonials," said Rupak.
Columbia, S.C.-based medical travel operator Companion Global Healthcare is also enjoying a sharp rise in its corporate client base, said president David Boucher.
"Two years ago we had three customers. Today we have 253 employers in 21 states as our clients," he said.
Not just for the little guy. Larger companies are slowly warming up to travel surgeries, said Tony Lee, president of Dickerson Employee Benefits.
A year ago, his company had no corporate client interest. Today, his company has 50 clients.
Retailer American Apparel (APP), which has about 3,000 employees on its health plans, is considering medical travel said Lee, who is preparing for an upcoming meeting with Disney (DIS, Fortune 500).
Still, Lee said medical liability is preventing medical travel from going mainstream. "For my large corporate clients, this is the biggest hurdle," he said. "In case of a complication, where does liability reside?"
Experts said most employers who offer medical travel do not provide malpractice insurance to employees although consumers can buy it on their own.
Large companies are coming around though, said Milstein. "They're dipping their toes in. Instead of looking for international destinations, companies are taking that same idea and applying it domestically."
One example - home improvement chain Lowe's (LOW, Fortune 500) recently launched a program with Cleveland Clinic that allows employees to travel to the medical center for complex surgeries with all medical and travel expenses covered.
The upside for Lowe's is that it negotiated favorable, fixed rates for select surgeries.
Not for everyone. Tina and Patrick Follett grappled with their decision for about a week. But in the end, cost wasn't the only deciding factor.
"With the hospital back at home, I felt like a number," she said. "Here I felt like they cared."
Still, she had moments of doubt about Panama. "It's a foreign country, a foreign culture. Deciding to do this is not for the faint of heart."
"You have to be adventurous and confident in yourself," she said. 'It's certainly not for everybody."