Indian travel site jumps 89% in IPO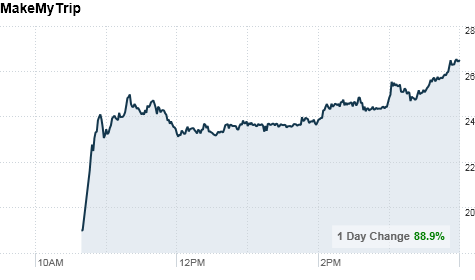 NEW YORK (CNNMoney.com) -- Shares of MakeMyTrip Ltd. soared 89% on Thursday as the Indian travel agency made its debut on the U.S. market, in another sign of strength for online travel booking services.
The company, based in New Delhi and New York, provides airline, hotel and train bookings through its Web site, MakeMyTrip.com. In its initial public offering, the company offered 5 million ordinary shares priced at $14 a share.
Despite a sell-off in the broader market, shares of MakeMyTrip (MMYT) were up $12.45 to close at $26.45 on the Nasdaq.
Deep Kalra, who founded MakeMyTrip in 2000, said in an interview that he was pleased with the market's reaction, adding that he is focused on using the proceeds to help grow the company. "It's a good milestone but only the beginning of a long journey," he said.
The IPO, which is on track to be one of the strongest this year, comes on the heels of better-than-expected quarterly results from rival travel Web site Priceline (PCLN).
Last week, Priceline said profits in the second quarter jumped 16% driven by higher travel demand and improving room rates. International travel bookings increased by 59% compared to the year-ago quarter, while domestic bookings were up 20%, the company said.
In addition, Moody's Investors Service said recently that it is considering upgrading the credit ratings of online travel company Expedia (EXPE), thanks to forecasts for growth in the travel industry and Expedia's strong financial results during the recession.
While overall retail sales have been slowing recently, especially on discretionary purchases, the travel sector is one area that is attracting consumer dollars, according to a report from MasterCard Advisors' SpendingPulse data service.
A recent SpendingPulse report showed that spending on airlines, hotels and rental cars increased in July from a year ago, when the summer travel season was dominated by staycations.
However, some analysts were skeptical that the surge of interest in MakeMyTrip can be sustained.
Bill Buhr, IPO strategist at Morningstar, said the company has "open-ended growth potential" given its exposure to India's rapidly expanding middle class. But, he warned, it is entering a crowded field and "lacks any sustainable competitive advantage."
"In all, the numerous risks and uncertainties would lead us to pass on booking an investment in MakeMyTrip," he said.
-- Staff reporters Annalyn Censky and Hibah Yousuf contributed to this report.