Droid 2 and BlackBerry Torch: The anti-iPhone launches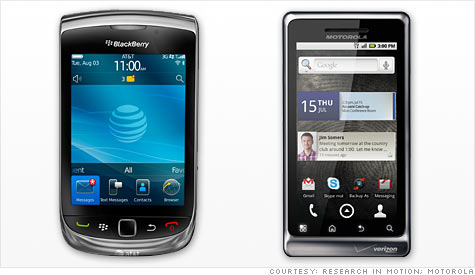 NEW YORK (CNNMoney.com) -- The Motorola Droid 2 and the BlackBerry Torch went on sale Thursday -- and the demand for the two new top-of-the-line smartphones was decidedly un-iPhone like.
When the iPhone 4 launched in late June, it was the single biggest consumer electronics product launch in history, according to the research firm Yankee Group, with nearly 2 million customers lining up at stores across the country to snap one up. Retailers like Wal-Mart (WMT, Fortune 500), Best Buy (BBY, Fortune 500) and RadioShack (RSH, Fortune 500) quickly blew through their inventories, with Apple (AAPL, Fortune 500) stores following suit soon after. AT&T's preorders for the device were so massive that it didn't even offer iPhone 4s in its stores for walk-in customers until a week after launch.
There were no lines to speak of for the Droid 2 and Torch. Calls to a handful of Best Buy locations, Verizon (VZ, Fortune 500) stores and AT&T stores showed that stock of the new devices was generally plentiful.
"We've got lots of them, come on by," said a Verizon store employee of the Droid 2 supply at the Atlantic Terminal location in Brooklyn.
The Droid 2, which is available exclusively on Verizon's network, and the Torch, only on AT&T, are high-end smartphones with a lot to prove.
The Droid 2 is replacing the original Droid -- a phone that quickly became a sensation when it went on sale in November 2009. The first 74 days of Droid sales outpaced that of the original iPhone, according to analytics firm Flurry.
But the Droid 2 isn't just competing with the iPhone and other networks' top devices, like the HTC EVO 4G on Sprint. It's also going toe-to-toe with its Verizon Droid counterparts, the Motorola (MOT, Fortune 500) Droid X and the HTC Droid Incredible -- both of which sell at the same $199 price point (with a new two-year contract). The original Droid was slower and had a far worse keyboard than the new Droid 2, but otherwise it was the same phone -- and it had sold for $150 since the Droid X was unveiled in June.
The Droid 2 has a physical keyboard and ships with the latest version of Android, which will attract some users, but it's heavier and clunkier than its peers, and it lacks their screen size, camera quality and video capturing capabilities.
The BlackBerry Torch is a different story. It's clearly the best BlackBerry that Research In Motion (RIMM) has ever made, with a touch screen/slide-out keyboard combo and a new operating system that will make BlackBerry lovers go ga-ga.
But non-committed smartphone customers who wander into an AT&T (T, Fortune 500) store will be faced with the dilemma of paying $199 for a Torch or $199 for an iPhone 4 -- with the same data plan and same [insert adjective describing your opinion of AT&T] network.
That brings us back to the issue of availability. One key thing that both the Torch and the Droid 2 have going for them is that they're actually available for purchase. Many stores are backordered on the iPhone 4 and other Droids, and Sprint's (S, Fortune 500) EVO can't be found anywhere.
Online, it's even worse: The iPhone 4 takes three weeks to ship, the Droids take one to two weeks to ship, and the EVO is completely sold out with no mention of when it will be available.
But the Droid 2 and the BlackBerry Torch ship today.