The surprising success of the green supply chain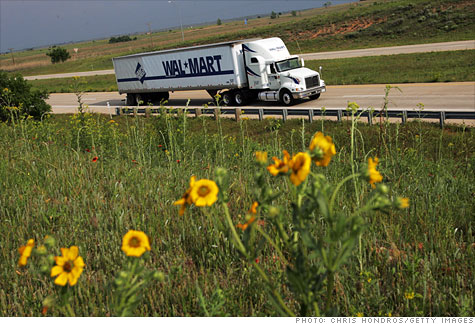 FORTUNE -- One year after Wal-Mart launched an ambitious plan to help its suppliers track their energy and materials use and carbon emissions, the effort has officially become a trend among corporate multinationals.
But don't assume that these companies are forcing change purely out of their love of the environment. A slow- or no-growth economy is another driver, since lower energy and resource costs translate into higher profits. They're going green, but mainly because they're seeing green.
Pacific Gas & Electric (PCG, Fortune 500), the California-based utility, is one of the most recent entries among a handful of large companies starting programs to green its supply chain. PG&E recently bestowed its first "Green Supplier of the Year" award to Southwire Company, a wire manufacturer headquartered in Carollton, Georgia.
Southwire won the award for converting almost one-third of its fleet to hybrid vehicles, reducing its landfill waste by 27% and eliminating almost all lead additives from its products. PG&E is also involved in an industry alliance to create more partnerships to green its supply chain.
Following in the footsteps of Procter & Gamble (PG, Fortune 500), IBM (IBM, Fortune 500) and Wal-Mart (WMT, Fortune 500), PG&E is taking a more comprehensive approach that leaps beyond carbon footprinting -- the amount of carbon dioxide released through all of its operations -- into life-cycle analysis. The General Services Administration, the federal government's giant purchasing manager, has also recently asked its 600,000 suppliers to start providing greenhouse gas emission tallies.
Forcing suppliers to change
Life-cycle analysis features a "cradle-to-grave" examination of how products and services impact the environment. Say you're P&G and you want to know how much your shampoo fares in a green evaluation. You'd then hire analysts to show how much raw materials were used, whether they resulted in pollution (and how much), energy and transportation inputs, and whether the product or its packaging ends up in a landfill.
Companies that adopt the life-cycle approach recruit their suppliers and other partners. P&G, for example, is using a scorecard for more than 400 key suppliers. The consumer products giant is employing its suppliers to help it reach its goal of a 20% cut in carbon emissions, energy and water use by 2012.
When it applies to supply-chain management, the savings from life-cycle analysis can be dramatic. Part of Wal-Mart's sustainability program, for example, calls for suppliers to "reduce packaging by 5% by 2013." Smaller packages mean more units per cargo carrier, which means fewer cargo carriers. The company estimates it will save 667,000 metric tons of carbon dioxide from being released and 66.7 million gallons of diesel fuel.
Like most companies with a global supply chain, Wal-Mart has a huge incentive to lower costs. Given its demanding approach with suppliers, it may just reach its goal and boost its $14.3 billion profit, which was up only 7% last year from 2008.
Savings down the supply chain are almost always good for the environment. Pulp and paper manufacturer Georgia-Pacific (GP), started a "packaging systems optimization program" that emphasizes efficiency and sustainability. It worked with Honest Tea to design 24-drink multi-packs that were 41% lighter than previous packaging, which saved money on shipping and fuel costs.
With sustainability and cost savings as tandem goals, many companies have aggressive targets in place. Although Kraft Foods (KFT, Fortune 500), said it has reduced the net amount of waste it's produced by 30% in the last half decade, its ultimate goal is to dump no waste in landfills. It's partnering with Sonoco (SON), the global packaging company, to achieve that objective.
Multinationals are not alone in feeling the pressure to assess their total environmental footprints. Every major company doing carbon and life-cycle analysis will need to examine all facets of its business in the post-BP, carbon-savvy climate. Global consumers and non-government organizations are starting to demand that multi-nationals go the extra mile.
Although the Senate took its summer recess without passing an energy or climate change bill -- and it is unlikely to pass the House bill when it returns after Labor Day -- companies will continue to seed green supply programs on their own. Pressured by a need to cut costs in a slack economy and conform with tougher European standards, corporate environmentalism is still catching on -- even if Washington can't seem to provide fertilizer for this growing movement.