To beat traffic China may roll over cars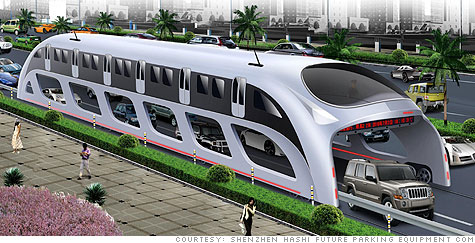 NEW YORK (CNNMoney.com) -- Struggling under mounting congestion problems and facing an explosion in automobile sales, China may build a novel bus-train hybrid people-mover that rolls over cars.
Resembling an open-mouthed whale, the vehicle, known as a "3-D Fast Bus" (which apparently sounds much more modern in Chinese), would run on stilt-like legs, whisking passengers along about 14 feet above the road and allowing traffic to pass underneath.
The vehicle can run either on rails laid on each side of the road, or on wheels programmed to stay on special lines painted on the pavement. Hitched together in a line of four, the transporter could move up to 1,200 passengers.
A spokesman for the Shenzhen Huashi Future Parking Equipment Co., the company building the vehicle, told CNN the firm is "definitely" signing a contract with the district of Mentougou, a suburb of Beijing.
Construction on a six-mile test road is set to begin at the end of this year, with groundbreaking on a 75-mile-long pilot project set for the end of 2011, said the spokesman.
A Chinese government official confirmed talks are underway, but was less optimistic on the time line.
"We're still discussing a contract," said Zhang Wenbo, Head of the Mentougou Science and Technology Commission. "There is no physical car in existence. At the earliest, we are still one to two years away."
The concept has been widely reported on China's state-run television.
The vehicle, which has attracted attention on blogs in the United States, would use a combination of lasers and ultrasound to alert others to its presence, and let drivers know when the are getting too close.
Electric powered - partly by solar - the transporter would run on a set of batteries, recharging at each station. It would have priority at red lights, rolling over waiting traffic when given the green signal.
Each vehicle is expected to cost about $4 million. State media reports have said the total up front costs are about one-tenth of a subway.
Some transportation experts in the United States view it with a wary eye.
"If this is true, it's a horrible way to fix transport problems," said Lee Schipper, Project Scientist at University of California Berkeley's Global Metropolitan Studies program. "You can't roll over cars, they don't drive in straight lines."
Others thought the project "interesting," but said what's important is that China is trying, whether or not it succeeds.
"It's good to deploy stuff, it's how you learn," said Mark Muro, policy director at the Brookings Institution's Metropolitan Policy Program. "Learning by doing is one way you establish advantages in industry. It's one of the things China is seizing from us."
CNN Producer Eve Bower contributed to this report