Sales taxes are highest in ...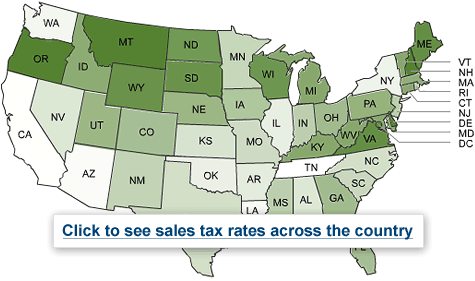 NEW YORK (CNNMoney.com) -- Tennessee has the highest combined state and average local sales tax rate of any U.S. state, at 9.44%, according to a research group's report released Thursday.
The Tax Foundation report also said that, among major metropolitan areas, two Alabama cities are tied for the highest combined state, county and city sales taxes. Birmingham and Montgomery both levy an average of 10% on purchases.
Until recently, Chicago held the title of highest metro area sales tax. But the Windy City was unseated after Cook County lowered its rate by 0.5 percentage point in July, giving it the sixth highest rate at 9.75%
Among the nation's other metro areas with at least 200,000 inhabitants, there are five California cities with sales tax rates above 9%: Long Beach, Los Angeles, Oakland, Fremont and San Francisco. Glendale, Ariz., and Seattle also ranked high on the list.
"Larger cities have an increased demand for government services and a higher rate of tourism, so it should not be particularly surprising that they tend to have higher reliance on the sales tax," said Tax Foundation adjunct scholar Lawrence Summers.
Meanwhile, the state with the second highest combined sales tax rate after Tennessee is California, at 9.08%, while Arizona came in third, at 9.01%. Other states with particularly high rates are Louisiana, Washington, New York, Oklahoma, Illinois, Arkansas and Alabama.
Sales taxes are levied by state, county and city governments. As a result, rates vary widely across the nation, making it difficult to measure and compare sales tax trends, said Kail Padgitt, a Tax Foundation economist.
"Even within a state, it can be difficult to know what the average sales tax rate is when there can be hundreds of different jurisdictions charging different rates," said Padgitt.
There are 34 states that allow local governments to charge a local option sales tax on top of the state sales tax, while 16 states have no local sales tax. Then there are five states that have no statewide tax at all: Alaska, Delaware, Montana, New Hampshire and Oregon.