Gold is glittering again. But why?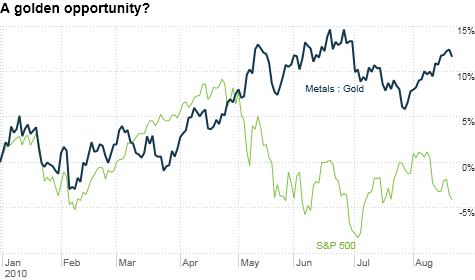 NEW YORK (CNNMoney.com) -- Night, night. Sleep tight. Don't let the gold bugs bite.
Gold prices have come roaring back in the past few weeks and are once again getting close to hitting a new all-time high. Prices were down a bit Friday. But at about $1,230 an ounce, they are still up more than 5% in the past few weeks.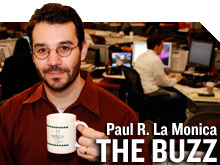 The yellow precious metal rose to an intra-day peak of about $1,265 an ounce back in mid-June -- the height of the fears about the sovereign debt crisis facing Europe's PIIGS.
So why is gold on the rise again? The move is a bit curious since gold is often viewed as a classic hedge against inflation because it's a tangible asset, unlike a paper currency. But many market experts and economists seem to be more worried about deflation than inflation.
Still, gold prices aren't always tied to inflation expectations. The price of gold often spikes at times of fear. And with more and more concerns about how the economic recovery in the United States is losing steam, investor nervousness appears to be the most likely reason for gold's recent move higher.
"It's the mirror image of what's going on with stocks. The only thing that we're certain of is uncertainty and gold benefits from that," said Richard Ross, global technical strategist with Auerbach Grayson, a broker dealer in New York.
Gold is undoubtedly a momentum play. With compelling reasons to avoid stocks, fears that the Treasury market may be a bubble, and concerns about both the state of the dollar and euro, gold could keep climbing.
Brian Hicks, co-manager of the U.S. Global Investors Global Resources fund in San Antonio, said gold could hit $1,300 by the end of the year and $1,500 sometime in 2011.
Hicks said that even though it may seem counterintuitive for gold to do well when people are worried about deflation, he thinks that some longer-term investors are still concerned about the potential for inflation at some point down the road. And that could push gold higher.
"Gold has been resilient in the face of a lot of discussion about deflation. But people are also discussing what the possible cure for deflation will be," Hicks said. "That could be an expansion of government deficits and excessive printing of money. That would debase the dollar and fuel eventual fears of inflation."
Keith Springer, president of Capital Financial Advisory Services, in Sacramento, Calif., agreed. He said gold could spike to between $1,400 and $1,500 next year.
"Gold is acting like a third currency, a crisis currency. Right now, you can buy it for deflation or inflation fears," he said.
But the recent gold rush may not be all about economic worries.
Ross said the run-up may also have been sparked by the fact that several well-known hedge fund managers, including John Paulson, Eric Mindich of Eton Capital, George Soros and David Einhorn, have disclosed investments in various gold-related assets, such as miners and exchange-traded funds tied to gold bullion.
"There's a dream team of investors that appear to be backing gold," Ross said.
But Ross warned that following the lead of the so-called smart money is risky. For one, it's tough to know for certain how big a hedge fund's positions are in gold since many funds often make quick moves in and out of investments.
Many hedge funds may also be making bets on both the long and short side of an asset. So it may be a mistake to look at a fund's holdings and conclude that a manager is 100% bullish on gold.
Sure, gold may have momentum on its side for now.
"Investors are attracted to things that are working. An object in motion tends to stay in motion," Ross said.
But investors in Internet stocks, real estate and oil have all learned the hard way that this is true for both directions. Springer noted that once the trend reverses, as he believes it inevitably will, gold could crash hard.
"It's going to take a while but once the financial crisis is over, there will be no reason to own gold," he said.
Reader comment of the week Merger activity is starting to heat up again, a trend I wrote about on Tuesday. I noted that the increase in deal making could be a bullish sign from corporations about the economy. But not everyone agreed that merger mania is a good thing.
"In my experience, mergers were really bad for jobs, but made the financial reports look great, even if the companies were totally inefficient and wasteful," wrote Brad Fox. "Many times I have seen corporations brag about huge revenue increases, only to find out the growth was the result of mergers, not true growth. Magic with numbers."
- The opinions expressed in this commentary are solely those of Paul R. La Monica. Other than Time Warner, the parent of CNNMoney.com, La Monica does not own positions in any individual stocks.