Pro-business Democrats run afoul of liberals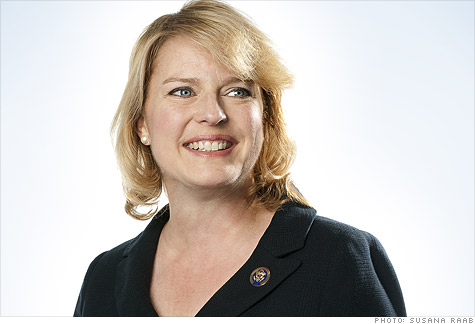 FORTUNE -- Melissa Bean, a third-term representative from Illinois, is on House Speaker Nancy Pelosi's radar, and not in a good way. Bean, a fellow Democrat who represents a wealthy swath of Chicago's northwest suburbs, crossed Pelosi back in December when she held up the financial reform bill to negotiate better terms for banks. And in May, she and other Wall Street-friendly Democrats forced the Speaker to scale back a package of tax cuts and benefits extensions for the unemployed because they objected to the measure's tax on venture capitalists.
But now that it's election season, Pelosi needs to do all she can to protect Bean and other members of the pro-business New Democrat Coalition, a 69-member group founded in 1997. With at least 68 competitive seats to defend (two more than what non-partisan political handicapper Charlie Cook was projecting at deadline for the print version of this story), the party's best hope for holding on to a majority in the House this November may be these New Dems.
New Dems have spent the past two years making a name for themselves as corporate champions in a party that's frequently hostile to big business. Hailing from affluent suburban districts, coalition members represent voters that Democrats have courted eagerly in their bid to build a lasting majority: upwardly mobile, socially progressive, market oriented.
Unlike the Blue Dog Democrats, the coalition of rural Southerners who focus on deficits, New Dems fancy themselves technocrats, diving into issues from trade to energy. The approach has yielded some big, if largely unheralded, wins for industry. The group sank a provision in last year's mortgage reform bill that would have allowed judges to renegotiate bankruptcy terms, for example, and it helped ease banks' exposure to state consumer protection laws in the Wall Street reform package. (Big business has returned the love: Companies that have contributed to the coalition's political action committee include AT&T (T, Fortune 500), General Electric (GE, Fortune 500), and Goldman Sachs (GS, Fortune 500).)
And New Dems have friends in high places. President Barack Obama last year declared, "I am a New Democrat." His chief of staff, Rahm Emanuel, was a member when he served in the House. Coalition members, in turn, have largely lined up behind the administration's agenda. That makes them vulnerable with independents who are souring on Obama; they also may struggle with liberals who distrust corporations. But politicians like Bean benefit from their ties to business in more ways than one. She's remained popular with voters in her district, and she's likely to defeat her Tea Party-backed opponent in the fall -- thanks, in part, to a $1.17 million war chest.