Yen soars to 15-year high against dollar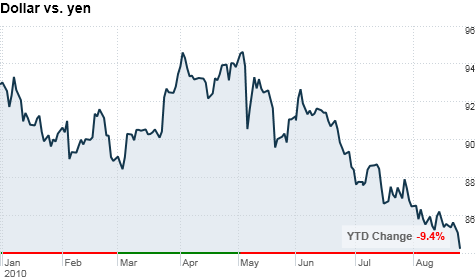 NEW YORK (CNNMoney.com) -- The Japanese yen surged to a fresh 15-year high against the U.S. dollar Tuesday, after the Japanese government failed to say it would take steps to curb the currency's strength amid growing concerns about the pace of the recovery.
What prices are doing: The greenback fell more than 1% against the Japanese yen to ¥84.16 early Tuesday, before paring back some of those losses to trade around ¥84.30.
It was the dollar's lowest level against the yen since 1995. The euro, meanwhile, fell to its lowest level against the yen since 2001.
The dollar managed gains against other currencies, including the euro and the British pound.
What's moving the market: The yen gained against major currencies across the board, as jittery investors flocked to the Japanese currency, which is typically seen as a low-risk investment during times of economic uncertainty.
Japanese finance minister Yoshihiko Noda failed to signal whether authorities would intervene to limit the yen's rise.
Noda told reporters at a press conference in Tokyo that "disorderly" moves in the yen could harm economic stability.
A stronger yen can hurt profits at Japan's export businesses, sending the Nikkei stock index down 1.3%.
What analysts are saying: "Gloom and doom have taken hold of the markets, so the usual suspects are benefiting," said Marc Chandler, global head of currency strategy at Brown Brothers Harriman, referring to the safe-haven yen and dollar. "While economic prospects in the major countries appear to be on the slide, the yen continues to benefit."
Chandler said that the Japanese authorities' lack of indications that they will intervene in the currency markets is also boosting the yen.
"More official jawboning was heard today by Japan officials, but given the boilerplate nature of those comments, they did little to dissuade markets from taking the yen higher," he said.