Bacon prices sizzle. Consumers feel the heat.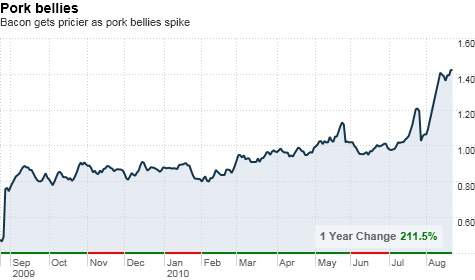 NEW YORK (CNNMoney.com) -- Bringing home the bacon is getting more expensive.
Whether it's a bacon cheeseburger from a local diner or packs of bacon on grocery store shelves, you can expect to pay a higher price for your favorite cured meat until demand simmers down or more hogs are bred.
Last week, prices of pork bellies -- from which bacon is cut -- jumped to an all-time high of $1.42 a pound. Prices have soared more than 200% from a year ago.
Retail prices are up nearly 16% over the past few months -- from about $3.64 per pound in April to $4.21 in July -- according to the Department of Agriculture. Companies have been forced to raise prices to adjust for the higher cost of getting bacon from their suppliers.
A spokeswoman for supermarket chain Publix, for example, said that while the company tries "to avoid dramatic increases, especially in a time and market in which customers are extremely price sensitive," Publix has had to raise the price of a pack of bacon in its stores by about 50 cents in the past few months.
Whole Foods (WFMI, Fortune 500) hasn't raised prices yet, but the grocery store chain is "exploring how recent increases may affect us," a spokeswoman said.
Restaurants are in the same boat.
"The price challenge means that restaurant operators will have to become more deliberative about how and where they use bacon," said Hudson Riehle, senior vice president of research at the National Restaurant Association. "Depending on just how much they use it will determine whether or not they raise prices or downplay offerings on the menu."
"Heck yes we'll raise prices" Five Guys Burgers and Fries, a national restaurant chain famous for its bacon-loaded burgers, has already raised prices "a little" to keep up with soaring costs. But it would rather charge more for one of its bacon burgers than skimp on bacon.
"Heck yes we'll raise prices -- even if the price of bacon were to triple we'd just charge more money," said Five Guys CEO Jerry Murrell. "The worst thing we could do is cut back on the bacon, and if I do catch anyone cutting back I'm gonna skin 'em."
Murrell added though that the price of bacon is only around 4% of the cost to make a burger. So the price increase could end up raising the price of a burger at Five Guys by just a few cents.
Wendy's isn't willing to cut back on bacon either, and is actually introducing higher quality bacon to its menu -- without raising prices.
When asked how the restaurant could afford to do this if prices continue to rise: "Time will tell," a spokesman for the chain, a subsidiary of Wendy's/Arby's Group (WEN) said. "We're not speculating at this time."
Where's the bacon? Hog supplies have been squeezed for the last couple years, as high costs of feed, low demand during the recession and the H1N1 (swine flu) virus scare led farmers to cut back on production.
On top of the already limited supply, the USDA forecasts pork production to drop another 3% this year.
"Even though they're making money now, we're not seeing much interest from producers in expanding their herds because they're still trying to recover from those losses from the last two years," said Tim Maiers, spokesman for the Illinois Pork Producers Association.
The recent hot weather has also been a factor, causing pigs to eat less and farmers to take longer to fatten them up, said Steve Meyer, president of Paragon Economics, a livestock and meat marketing consulting firm.
In the past four weeks alone, 7% fewer hogs have been brought to market from a year ago, making it likely that this year's pork production will decline even more than the USDA expects, he said.
But despite tight supplies and higher prices, demand for bacon is stronger than ever, Maiers said.
"It's become quite a trendy meat," he said. "While they may be scaling back on other things, consumers are wanting lots and lots of bacon in whatever it is they're eating or cooking."