Chrysler's speed merchant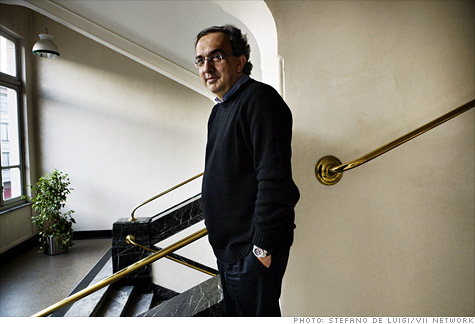 FORTUNE -- At first glance Fiat-Chrysler CEO Sergio Marchionne could pass for a humanities teacher at a small liberal arts college. He wears his black hair on the shaggy side, affects a casual and unchanging wardrobe (blue checked shirt and black sweater), and maintains an attachment to cigarettes (Marlboros in the U.S., Murattis in Italy). He conducts conversations like graduate seminars and seasons his comments with historical references. In a recent speech he quoted Karl Marx, Albert Einstein, Friedrich Nietzsche, and Ronald Reagan.
Initial impressions can be misleading. No bohemian, Marchionne, 58, collects fine Swiss watches and owns several Ferraris. And while his heart may be in academia, his head is ruled by business. Marchionne combines the charm of a salesman with the analytical skills of an actuary and isn't shy about demonstrating an unshakable confidence in his own abilities. Over a three-course dinner (anchovies in olive oil with capers, seafood risotto, mixed fruit) in his private dining room at Fiat's corporate headquarters in Turin, Italy, Marchionne makes no apologies for Chrysler's liabilities (weak technology, poor quality) because he knows exactly how he's going to fix them. Bringing his Fiat management style to Chrysler, Marchionne (mar-key-OWN-ee) believes his competitive advantage is speed. By wiping out layers of management and making decisions more quickly, he'll get closer to the market and bring out new models faster than his slower-moving rivals.
A personal approach to speed
Speed has been a cornerstone of management theory for two decades. Hyundai, for one, stepped on the gas to catch up with the world's elite automakers. But Marchionne, 58, is taking a far more personal approach to velocity. It has been evident since Fiat took a 20% interest in post-bankruptcy Chrysler in June 2009 and installed Marchionne as CEO of both companies. Since then he has torn up Chrysler's old-school org chart with its chains of command and replaced it with a flat organization with him at the top. He has handed two jobs to some executives to reduce the need for memos and meetings. And to make sure decisions are made quickly and nothing is overlooked, he supervises them all. Marchionne has his 25 top Chrysler executive -- everybody from engineering and manufacturing to legal and HR -- report directly to him.
Since Marchionne already had 21 direct reports at Fiat Group, and must divide his time between Auburn Hills, Mich., and Turin, most management experts would call his method madness. But instead of becoming a bottleneck, he has turned himself into an expediter because he is always reachable. "They have access to me 24/7," he says, and when they call or e-mail, he makes decisions in minutes -- or seconds. While traveling, he stays in contact with one of his six BlackBerrys. "BlackBerrys are divine instruments," he purrs.
Marchionne-style management is not for compromising types. He works all the time, subordinates say, and his wife has left Italy to live separately at their home in Switzerland (they have two boys). "The lifestyle I have today is the most abusive way to achieve a lasting impact," he concedes. His subordinates, most in their forties or early fifties, complain about their CEO's all-in schedule but not about the results. "He defines the road, and we have to drive down it," says Scott Garberding, 46, Chrysler's head of manufacturing. "I'm putting in more hours, but there are clear outputs to the hours and we're making progress."
Marchionne had a lot of catching-up to do. Competitors have been whispering that cutbacks had left Chrysler's product pipeline dry. In June the authoritative "Car Wars" report from Bank of America Merrill Lynch said that the automaker's lack of new products "leads us to believe that Chrysler will be the largest loser of market share in the next few years."
The new Chrysler collection
The best evidence of what speed can accomplish is inside the Chrysler design dome in suburban Detroit's Auburn Hills. Closed to outsiders, the dome contains a collection of what Chrysler will unveil to the public in the next three months. Among the standouts: an all-new 2011 Dodge Charger, a face-lifted Jeep Wrangler Unlimited four-door, and a three-row crossover vehicle (still unnamed) that shares a platform with the bestselling Jeep Grand Cherokee. Other models have new front and rear treatments, reworked interiors, and upgraded materials. None is a head-turner, but all look fresh and stylish. "Everything is different," says design boss Ralph Gilles, 40, who has worked at Chrysler since 1992. "We have urgency and quick decision-making, and the bureaucracy is completely gone." The company that used to be known for its minivans and the "baby Bentley" plans to redesign or significantly refresh 16 models, representing 75% of its lineup, by the end of the year.
Marchionne is saving his biggest splash for December, when he brings the Fiat 500 to the U.S. An updated version of a bug-shaped Fiat from 50 years ago, the tiny 500 has been a huge hit in Europe since it was introduced in 2007; 550,000 have been sold. Marchionne will build the American version at a Chrysler plant in Mexico and expects it to give the company much-needed buzz (estimated price: high teens). "We needed to pull something out of the hat," he says. The success or failure of the 500 will go a long way toward shaping the future image of Chrysler products.
Marchionne hopes his round-the-clock zeal will become contagious inside the company. For the launch of the first new vehicle of his tenure, the all-new Jeep Grand Cherokee, Marchionne got deeply involved. Instead of laying off workers when the plant was revamped last fall, he kept them working, and they scrubbed the Jefferson North assembly plant in Detroit from top to bottom -- its most thorough cleaning since it opened in 1991. When Marchionne showed up one Saturday to review their progress, the workers beamed, even more so when President Obama toured the plant a few weeks later and called it "this magnificent factory."
More than Chrysler shareholders have a stake in the success of Jefferson North, which is one of the last two car-assembly plants in the beleaguered city (along with GM's Detroit-Hamtramck plant). Chrysler will add a second shift to the plant of about 1,100 workers, most new hires, bringing total employment to 2,300. Under the UAW's new second-tier wage structure, they will be earning $14 an hour, about half what the current workforce makes.
Pulling Chrysler off the ledge
Before Marchionne took the wheel at Chrysler in June 2009, the company seemed headed for liquidation. His mere arrival restored some hope, thanks to his reputation as a turnaround wizard. He took over Fiat Group in 2004 while it was losing $2.4 million a day and led it to a profit in 2005; Fiat Auto broke into the black a year later. Since then he has kept it afloat in the overcrowded European car market with his unorthodox management style. "If a typical Italian CEO had been sitting in my chair, the company wouldn't be here today," he says immodestly. Chrysler is in better shape now than Fiat was in 2004, thanks to a balance sheet scrubbed clean by its 42-day trip through bankruptcy and $7.4 billion in government loans to help its merger with Fiat. While the U.S. car market remains weak, Chrysler earned a small operating profit in the first and second quarters and should be able to limp along until its new models arrive. Then Marchionne will have to start building for the future: strengthening Chrysler technology, attracting younger, higher-income buyers to its blue-collar brands, and rebuilding its dealer network. Everyone knows that the twice-rescued Chrysler -- the first government bailout was in 1980 -- isn't likely to get a third chance.
As a standalone automaker, Chrysler was in no position to deliver on its goals. "The company didn't have all the capabilities to execute the plan that was developed in the technical and industrial areas," says Alfredo Altavilla, who runs Fiat's powertrain group and sits on Chrysler's board of directors. Yet what attracted Marchionne to Chrysler was its scale. He's convinced that 6 million units of annual production is essential for survival in the rapidly globalizing industry; Chrysler moves Fiat closer to that goal. (IHS Global Insight forecasts that in 2010 Fiat will build 2.3 million vehicles, Chrysler 1.3 million.) Besides, he struck a great deal. Without putting up any cash, Fiat got its stake in Chrysler in exchange for providing access to Fiat's small-car platforms and its more environmentally friendly small-bore engines. (The U.S. owns 8% of Chrysler, and the UAW's health trust has 55%.)
After taking over Chrysler, Marchionne overhauled not only the management chart but the staff as well. He combed the company for younger managers willing to take on more responsibility, be available at all times, and put the company above their own interests. The last is important to Marchionne. "The hardest job is getting personalities to mesh. Some people become dysfunctional -- their egos become blown out. It is like having an evil spirit in the house."
Marchionne reversed current industry practice and entrusted responsibility for the profit and loss of each brand -- Chrysler, Dodge, Jeep, Ram -- to a single individual. "I give people a huge amount of rope," says Marchionne, "and then I hold them accountable for the rope."
When Marchionne unveiled his five-year plan for Chrysler to analysts and the media in a seven-hour meeting in Auburn Hills last November, a few parts were predictable. By 2014 nearly 60% of Chrysler's worldwide production will ride on Fiat platforms. More controversial were Marchionne's growth forecasts. He expects Chrysler to add four points of market share by 2014, to more than 13%, sell more than twice as many cars and trucks as it does now, and make $5 billion in operating profits. Marchionne is serenely undisturbed by skeptical reactions. "I've always hit my numbers and will with Chrysler's five-year profitability plan," he told a group of dealers in June. "We told people we'd break even in 2010. We made an [operating] profit in the first quarter. It wasn't a lot of money, but it's black, and it is from selling cars. From what I can tell, we'll do significantly better than zero this year."
Bringing a little piece of Italy to America
Marchionne's ambitions in the U.S. extend beyond Chrysler. He has promised to bring Fiat's 100-year-old Alfa Romeo brand back to America after an absence of 18 years. As with Fiat, Alfa has a sizable credibility gap to close. "Alfa has enormous heritage -- the cars are beautiful, emotional, and exude Italianness," says Harold Wester, who oversees Alfa and Maserati, as well as serving as chief technical officer for the Fiat Group. "They are also associated with disappointment -- they overpromised and underdelivered. There needs to be 100% rationality and trust associated with the brand." Even though Alfa has underperformed for the past several years, Marchionne has set stretch targets for the future. He expects it to sell 85,000 cars annually in the U.S. by 2014, as many as Audi does today.
The biggest question mark hanging over the whole Fiat-Chrysler enterprise is product quality. Chrysler has been launching new quality initiatives for the past two decades but never succeeded in lifting itself off the floor of the rankings compiled by J.D. Power and Consumer Reports. Fiat does no better. It had earned a dismal reputation for durability and reliability by the time it exited the U.S. market in 1985 and still ranks near the bottom in Europe. Marchionne is adamant on the issue. He says Chrysler's quality must be second to none, and he was willing to delay production of the new Grand Cherokee for a month to ensure that it was. He's pleased with the progress so far. "Chrysler has accomplished in 12 months what took Fiat five years," he says. But gaining on the competition means chasing a moving target. Toyota (TM), GM, and Volkswagen all have a lot to prove.
Out-of-towners take Motor City
Like GM's Ed Whitacre and Ford's Alan Mulally, and before them Renault-Nissan's Carlos Ghosn, Marchionne is one of a new breed of industry outsiders who are shaking up automaking. Before joining Fiat, Marchionne spent four years as CEO of Geneva's SGS, a testing and certification company with 59,000 employees. His nationality might be best described as mid-Atlantic. Although he was born in Italy, Marchionne was raised in Canada. He has an undergraduate degree in accounting, an MBA, and a law degree -- all from Canadian universities -- and speaks unaccented English. "I act like a native in North America," he brags. "I eat sliders in Detroit."
From that singular perch, Marchionne takes an all-but-gleeful delight in reminding audiences about the deficiencies of the Western auto industry. He calls it a business of hand-me-downs and seldom lets an opportunity go by to remind his audience that the autos have been "rigorously and methodically" destroying billions of dollars in shareholder value. He's particularly critical of what he calls "M&A sprees" that have made automakers "into rambling ranch houses onto which one room after another was added -- with no rational architecture uniting the whole."
Marchionne has become his own architect by designing the Fiat-Chrysler alliance and putting himself in the middle. It's a high-wire act without a safety net; Marchionne has not publicly designated a No. 2 at either Fiat or Chrysler. And there aren't many who would choose to follow his example. After dinner at Fiat headquarters concluded at 10 p.m., Marchionne led his Fortune visitor down a flight of stairs to his office. Except for a desk the size of a banquet table, the space could be mistaken for a college dorm room. Stacked on every surface were piles of CDs, hundreds of them, mostly jazz recordings. Marchionne likes to listen to music while he works, and he was evidently well supplied for a long evening ahead. As his visitor left, Marchionne remained behind. E-mails from Auburn Hills were still coming in, and the CEO was trying to keep the needle in the red zone.