How many Kindles did Amazon really sell?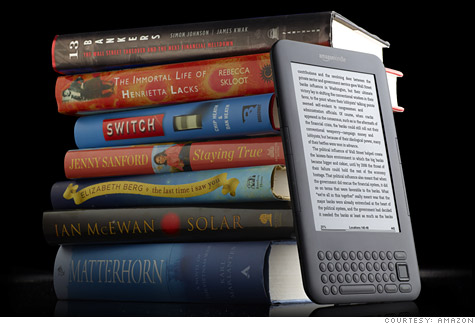 NEW YORK (CNNMoney.com) -- Amazon.com's new Kindle is outselling previous versions in the first month of its launch, the company said Wednesday. But Amazon still won't reveal sales figures for its popular e-book reader.
The long-awaited Kindle 3 announcement came June 29. The smaller, lighter new version costs $139, versus the $399 price tag of the original Kindle released in November 2007. That means the Kindle 3, which started shipping Wednesday, is 65% cheaper than the original -- so it's not surprising it's the fastest-selling iteration.
Wednesday's announcement is just another in a long line of vague press releases about the Kindle, in which Amazon (AMZN, Fortune 500) consistently has refused to say how many e-readers it has sold.
The company simply said the new Kindle is the "fastest-selling ever." Calls to Amazon for further clarification about Kindle sales were not immediately returned.
The verbal gymnastics reached a head in July, when Amazon said in a press release that the Kindle's "sales growth rate" had tripled since a price cut -- a confusing phrase that led some news outlets to report incorrectly that total Kindle sales had tripled.
The Kindle seems to be doing well despite competition from e-readers including the Barnes & Noble (BKS, Fortune 500) Nook, the Sony (SNE) Reader and Kobo from Borders (BGP), as well as Apple's (AAPL, Fortune 500) multipurpose iPad.
'They compare apples to Apple Jacks': It's in Amazon's best interest to keep Kindle sales details under wraps, said Michael Norris of Simba Information, a research firm that covers the media and publishing industries.
"They can keep this perception of being the market leader without releasing the details," Norris said. "It's interesting to sit through Amazon earnings calls and nobody pushes for Kindle details. It's as if people are trained not to ask."
In general, e-books net Amazon more profit versus physical books, Norris said. He points to an "amusing" July press release that said the company sold 143 Kindle books for every 100 hardcover books.
"A lot of the Kindle bestsellers cost 25 cents -- of course they're going to sell better than hardcovers for $14," Norris said.
"They're comparing apples to Apple Jacks," he added. "This kind of message management is beyond normal corporate public relations. And now I've gotten so used to it that I'm becoming suspicious of any stats they release."
Kindle sales in the millions? Kindle sales account for about 3-5% of Amazon's total revenue, according to Internet stock analyst Frederick Moran of The Benchmark Company.
Analysts are currently forecasting that Amazon's total revenue this year will be $33.2 billion. So using Moran's estimates, Amazon may generate as much as $1.7 billion in sales from the Kindle this year. Moran added that he thinks the company has probably sold millions of the devices over the last few years.
"The price is now very tolerable to the average American consumer," Moran said. "When electronics drop below $200 it stimulates consumer interest."
Moran said the Kindle is "definitely the leader" in the e-reader market as far as number of units in circulation, and its sales will continue boosting Amazon's overall revenue.
"Amazon was the first to the game with the best mousetrap," Moran said. "That distanced them from competitors, which is key in a crowded market."