Consumer tech: Bubble or boom?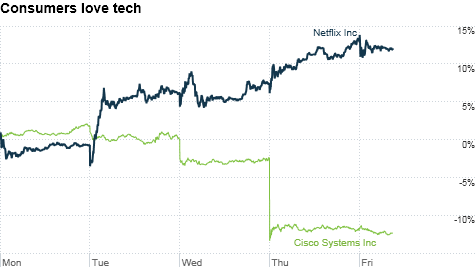 NEW YORK (CNNMoney.com) -- It's a tale of two tech sectors: It's the best of times for companies catering to consumers, but the worst of times for ones with a major presence in the big business market.
This has been a tough week for the megatechs that ply their wares to large corporations. Intel (INTC, Fortune 500) got smacked after several analysts warned of slowing demand for personal computers.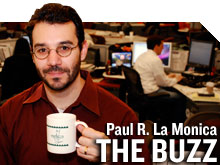 Hewlett-Packard's (HPQ, Fortune 500) been hammered -- although most of that sell-off has to do with concerns about the executive suite in the wake of Mark Hurd's messy departure.
Cisco Systems (CSCO, Fortune 500) was slaughtered after issuing cautious guidance. And Microsoft (MSFT, Fortune 500)? Well, as my colleague David Goldman pointed out, it's been treated like a leper by investors.
But Apple, Amazon .com, Netflix and Priceline.com -- to name a few -- have remained Wall Street darlings even as investors are starting to worry more about a slowdown in the global economy.
Apple (AAPL, Fortune 500) and Amazon (AMZN, Fortune 500), which both rose Thursday while the broader tech sector fell, are benefiting from consumers' continued love affair with wireless gadgets. It appears there may be room for both Apple's iPad tablet and Amazon's Kindle e-reader to coexist.
Shares of Priceline (PCLN) are up near their 52-week high as consumers start traveling more again -- but looking for ways to save as they do it. And Netflix (NFLX) stock is around an all-time high after the company inked a deal this week with three major movie studios to stream films online.
It's interesting that consumers, despite cutting back on some areas, are still willing to spend on high-tech devices and services.
It goes to show that even in a sluggish economy, there are certain luxuries we are not willing to, uh, cut the cord on. Market leaders can take advantage of that.
"These companies are providing something that's different to consumers, and that's why they are benefiting. They've had remarkable top-line growth and powered through the downturn very nicely," said Sunil Reddy, portfolio manager with Apex Capital Management in Dayton, Oh. His firm owns shares of Apple. Amazon and Priceline.
But have the stocks of consumer tech companies reached unreasonably high levels? Netflix, for example, now trades at 47 times 2010 earnings estimates and 35 times profit forecasts for next year.
That may not be a nosebleed valuation -- analysts expect profits to rise more than 40% this year and nearly 35% in 2011 -- but it is hardly cheap. What's more, it leaves little room for Netflix to stumble. Even the slightest hiccup in subscriber, sales or profit growth could lead to a major rout in the stock.
The same could be said for some of the other consumer techs that are also richly valued. Priceline trades at 20 times 2011 earnings estimates. Amazon has a P/E of 35 based on 2011 forecasts.
"People still do pay attention to valuations. There is less margin for error for some companies as investors are trying to weigh their expected growth prospects," Reddy said.
Only Apple, which trades at 14 times estimates for fiscal 2011, might be considered a bargain -- particularly since those estimates are probably low. as Apple is notorious for low-balling when it comes to giving analysts guidance.
Of course, not all techs focusing on consumers are being embraced by Wall Street. As with any industry, there are winners and losers.
Shares of Motorola are flat this year, while Research in Motion's stock is down 20%. Both companies have heavily hyped new smartphones, but investors seem to be betting that those offerings won't supplant the iPhone.
Reader comment of the week: There has been an intense debate in Silicon Valley and on Wall Street about whether Mark Hurd deserved to lose his job for allegedly lying on some expense reports. The dollar amounts in question are small. Oracle CEO Larry Ellison and others have blasted HP's board.
But I think this comment from Bob Gustafson in response to Monday's column about whether HP is a buy without Hurd sums it up best:
"As a CEO, to fudge expense accounts and get entangled with a blonde cougar is a lapse of epic proportion. Clearly he needed to step down," he wrote. "Now if our government were only this efficient in eliminating corrupt elected officials."
- The opinions expressed in this commentary are solely those of Paul R. La Monica. Other than Time Warner, the parent of CNNMoney.com, La Monica does not own positions in any individual stocks.